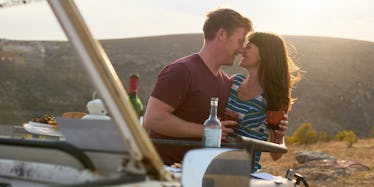 5 Affordable, Trendy Sangrias To Stock In Your Fridge This Summer
Per Swantesson
Summer wouldn't be complete without sangria on deck to sip and savor.
If you're a true wino at heart, you know every summer affair — from a beach picnic with your main girl squad, to a backyard barbecue — requires some sangria action.
Whipping up your go-to boozy treat can be a hassle, especially if you're in a major time crunch.
To make things a bit easier on your summer plans, here are five affordable, trendy sangrias you'll want to drink all season long.
1. Mija Sangria
Mija Sangria, $12, Ninety Plus Cellars
If the chic bottle doesn't make you instantly fall in love with this sangria, you may have to get your priorities in line.
This sangria is 100 percent gluten-free, and is made with real fruit juice. You'll still enjoy that spectacular homemade taste, and it's perfectly ready-to-drink for your convenience.
If you're more of a red wine lover, Mija's red sangria highlights acai, blood orange juice, lemon, and pomegranate. Their white sangria includes exotic fruits such as lime, guava, lychee, and orange.
Expect Mija to be your poolside bestie all summer long.
2. Lolea Sangria
SANGRÍA LOLEA Nº1 RED, $19, Lolea Sangria
This polka dot bottle was seriously made for a trendy backyard brunch gathering with your girlfriends.
Sangria is a go-to, refreshing drink for the summer. Lolea boasts a spectacular secret blend of their own, described on their website as "a perfect combination of wine and fruit with a frizzante touch."
Pack a couple of bottles of this sangria in your picnic basket or beach bag, and you're sure to have an even better time.
This is the most expensive pick out of the bunch (it still won't break the bank), but you can even use the bottle as a cute flower vase after you're finished with the sangria inside... so it's a win-win.
3. Girls' Night Out Sangria
Girls' Night Out Sangria, $9, LCBO
This sangria is literally essential to your girls' night out plans throughout the summer months.
The divine candied berry fruit taste, complete with a blood orange finish, will make any night with your girlfriends all the more special. Break out your colorful dresses and heels, and it's time to get the festivities started.
4. Eppa SupraFruta Organic Red Sangria
Eppa SupraFruta Organic Red Sangria, $10, Wine.com
This lavish blend of acai juices, blood orange, blueberry, and pomegranate was made for soaking up some sun on the sandy shores.
What's best about this chilled beverage is it's made with real and organic fruit juices. Round up the chicks, grab your sunnies, and be prepared for the ultimate relaxing day on the sand with sangria in hand.
5. Red Cat Sangria
NV Hazlitt 1852 Vineyards Red Cat Sangria, $8, Amazon
This sangria boasts a heavenly aroma of cinnamon, and tastes like the prime combination of lime, lemon, strawberries, and orange.
You'll be getting HazLIT in no time with this party in a bottle, so blast those beats and bring this sangria to every and any backyard barbecue.