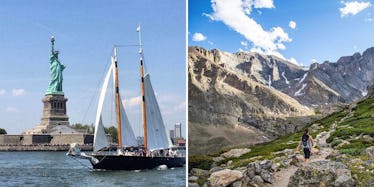 Choose Your Own Adventure: What Your Favorite Park Says About You
Instagram
Whether you live for autumn's cool breezes or winter's warm indoor comforts, we can all agree summer is an untouchable season.
Nostalgia is at every glance of denim shorts, each bite of juicy, grilled burgers and swallow of perfectly chilled Budweiser -- all set to a shades-worthy soundtrack.
This solstice begs for dancing outdoors, choosing new adventures and taking in the nation's wonders between America's coasts.
From sea to shining sea, recreational opportunities are endless. But grass-filled, adventurous fun doesn't always take a flight or extensive pre-planning. There are parks and monuments to experience in your own backyards.
Enter: Budweiser's Monument Series, a two-city concert that bridges the "official beer of America" and this country's iconic landmarks in partnership with National Park Foundation.
For its west coast stop in San Francisco, the 100-plus-year-old beer titan hosted a monumental music moment at Crissy Field, set to the tunes of Cash Cash, the Bay Area's own E-40 and Day Wave.
"We're a very down-to-earth brand and the reality is that live music events are better with beer," says Budweiser VP Brian Perkins. "We have a very authentic and longstanding role in music culture. Our events are very multi-cultural, very diverse so that's why the fit with National Park Foundation is so natural."
While it's bittersweet to watch this summer season wind down, Perkins suggests finding your favorite park and matching your playlist to be more reflective of America's true cultural image.
Here are a few reserves (you probably couldn't think of) that'll get you started.
Who You Are:
You're a free-spirited, upwardly mobile urbanite who probably moved from Cali to Texas' capital with tech dreams in tow.
But just because your sights are zeroed in on Mark Zuckerberg's Adidas sandals doesn't mean you'll opt out of fresh-air adventures.
Austin's "most loved" park boasts several recreational opps on its 350-acre space, among them being a botanical garden, canoeing and kayaking on the Colorado River and its treasured Barton Springs Pool.
Your Playlist:
Thank this city's healthy helping of music fests for your eclectic selection.
Crank up your chopped and screwed tunes from Houston and press play on Leon Bridges' Fort Worth-bred soul. But don't sleep on Sam Hunt's No. 1 hit, "House Party" either.
Who You Are:
Playing "The Little Mermaid" on repeat as a kid was a catalyst for your current fascination of nautical history in Miami's neighboring lagoon.
Instead of heart-stopping heights and flatlands, you prefer below sea level exploration, aquamarine creatures and haunting tales of pirates and shipwrecks.
Go snorkeling to give yourself the Ariel treatment and FaceTime with fish.
Your playlist:
Put Rick Ross's "Port of Miami" and Pitbull's Latin-infused international hits on shuffle. Keep it authentic in one of America's Spanish hotspots with Top 40 mixes and Nicky Jam's "El Perdón."
Who You Are:
You ventured across the pond from your home country to this land of opportunity in search of the dream.
And while you've landed at the core of NY's Big Apple, you'll never hesitate to ferry across the Hudson River to pay homage to those foreigners who've risked it all for you.
Your interests are steeped in America history, especially that of your own family tree, and wish only to explore national treasures.
Your Playlist:
To live in NYC and not play Jay Z's ode to the Empire State is blasphemous.
Play Brooklyn's own along with record-breaking artists who steadily climb Billboard charts and rep their non-American roots, like The Weeknd and One Direction.
You're a bit more rugged than your friends. You're a thrill-seeking adventurist who's unafraid of neither bears nor bruises (or those horrendous LL Bean shoes).
Hiking? Sure. Survivor-style camping? Why not! But mostly, you just really dig breathtaking sights and living off the land. In that case, all 415 square miles are your playground, with enough starry nights and hiking trails to make Reese Witherspoon's "Wild" times look like a beach vacay.
Your Playlist:
Turn up the sounds of indie rock band Arcade Fire. If pop is more you swag, don't go all Taylor Swift, stick to Fun. and other pop-leaning indies.