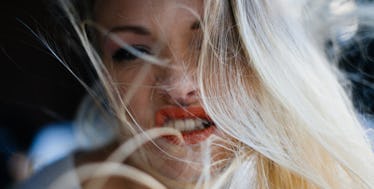 5 Things I Do Every Day That Helped Me Heal After My Mother's Death
I was 13 years old when I said goodbye to my mother, who was dying of cancer. I walked into her hospital room and sat down next to her as I grabbed her small, weak hands, trying to picture my life as a motherless daughter.
I knew this would be the last time we would ever physically touch, but I had no idea that my mom's absence would be so incredibly painful.
After I walked out of her room, I expected there to be some type of book or guidance that would lay out exactly how to get through this type of heartbreak. There was nothing.
There was no pamphlet that spelled out how to handle all the anger or advice on how to survive the death of your mother. There were only hugs and kisses from everyone. Everyone other than the one person from whom I wanted them, that is.
The pain I felt for so many years after she died was so intense that it forced me to figure out what made me feel better, just so I could get through the days.
I already knew my family and support system would always be there, but I needed to know that no matter where I was or what was happening in my life, I could do this on my own.
I could survive.
We all need to make sure that we have people, places or things in our lives that help ease our suffering, even if it's just for a short period of time.
Here I am, now almost 27 years old, 13 years after the death of my mother, and I've finally found what helps me navigate the really painful moments:
1. Going on walks every day heals me.
Maybe it's the act of putting one foot in front of the other, but going on a walk every day has played a huge role in my grieving process. Walking gives me the opportunity to move my body, release endorphins and gain perspective on whatever it is I may be feeling.
Even if it's just for 10 minutes, I make it a point to take a walk every single day.
2. Stretching my body heals me.
I've read many articles about the benefits of stretching and how important it is for our mental health. We hold the most emotional stress in our muscles, so it's no surprise that when we stretch our bodies, we also stretch our minds.
The simple act of stretching every day for at least 10 minutes releases the stress and pain that I hold so tightly in my muscles and makes me feel emotionally lighter in an instant.
Whenever I'm feeling really sad or lost, I force myself to do some type of stretching. It's helped me push through some of the most painful times in my life.
3. Helping other people heals me.
Even if it's just holding the door for someone or listening to strangers talk about what's bothering them, I find the act of helping someone else to be the most healing of them all.
Whenever I'm really down, I force myself to help or give back to someone else. Feeling like you have a purpose is extremely important when it comes to healing. There is truly no greater feeling than knowing you've made a difference in a person's life.
4. Writing down how I feel heals me.
After my mother died, I kept a journal for 10 years.  It allowed me to express myself in ways that I wasn't able to do vocally, and every time I wrote something down, I felt like I could breathe again.
Being able to remove all those sad thoughts from my head and put them down on paper always helped me sort out my emotions. Some days, I write long entries and some days, I write down just a few words. It all helps.
5. Being fearless heals me.
Learning how to live my life without fear has pushed me to become a better person, and I tell myself every day that I can handle anything that comes my way.
It's not always easy to believe that, but I've learned that the more I fill my life with things that challenge me as a person, the stronger I become.
Nothing can destroy me and my mother's death has shown me that, year after year. I'm choosing to live my life with less fear because I know I already have everything I need to survive in me.
And, so do you.