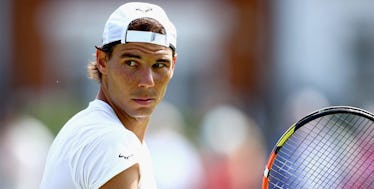 5 Hispanic Public Figures Who Are Role Models For This Generation
Getty Images
The world is turning a corner, and we are fortunate enough to witness a chosen few making strides to make it a better place. During September and October, we celebrate Hispanic Heritage Month.
As a country, we take the time to honor those in the hispanic community who are worth emulating. Ranging from entertainment and politics to entrepreneurship and sports, we take a deeper look at the individuals who are redefining their positions and providing us with great examples.
Today, I'd like to shine the spotlight on five hispanic figures who have played a huge role in inspiring us all. Some will be familiar, while others will be new, but they have all left their mark on Millennials.
1. Ricky Martin
We got a first-look at this Puerto Rican heartthrob and started "Livin' La Vida Loca" in 1999. Ever since then, Martin has been a staple in the hispanic community without losing sight of his Menudo days.
Having had such a powerful pop music influence so early in his career, Martin was chosen as one of the judges on Australia's version of "The Voice."
Martin never shies away from public opinion and is often an activist for his hispanic peers. Most recently, he let out his outrage over Donald Trump's immigration stance and defended fellow hispanic Jorge Ramos over his press conference ejection, courtesy of the Republican frontrunner.
Besides this, Martin's biggest accolade hasn't been winning Grammys, but instead, opening the doors for the LGBT population and fighting the battle against sexual discrimination.
In 2010, Ricky made his biggest announcement ever, coming out as a "fortunate homosexual man" and becoming the face of a forward-thinking generation that continues to move in the right direction.
Currently, Ricky can be seen selling out stadiums and arenas around the United States and Canada on his One World Tour, while channeling his inner Christian Grey as the Nescafé spokesperson.
2. Carlos Slim
When it comes to business and finance, no other hispanic figure stands taller than Carlos Slim. Known around the world as the Mexican Warren Buffett, Slim boasts a net worth of more than $68 million dollars.
This fluctuating number constantly pits him against Microsoft cofounder Bill Gates for the title of the richest man in the world.
Money aside, Slim will be the first one to tell you that nothing has been given to him, and he has earned his success. Carlos Slim began his professional career as a stockbroker, but made his vast fortune by being the majority proprietor of Mexico's largest telecommunications company, América Móvil.
Slim isn't known for holding shares of entire companies. Instead, he dips his toes into businesses steadily and often, with names that include Saks Fifth Avenue and even The New York Times.
It can be argued that the true wealth of a man is how he shares it, and Slim is no stranger to giving back. He employs more than 200,000 people around the world and enjoys philanthropy, most notably through education and health care.
If entrepreneurship is one of your passions, Slim's career should definitely be of interest.
3. José Mujica
"Pepe," as he was known to most of his loyal followers, held office for five memorable years and had an insane impact on his people.
Mujica was often referred to as the "world's most humble president" and, before stepping down, left a legacy that will likely be unmatched. He even donated more than 90 percent of his salary to charitable foundations across his country.
Mujica was never paraded around town in fancy limousines and, aside from official meetings, was rarely seen sporting a necktie. Instead, Pepe chose to live on a farm outside the capital of Montevideo and rode to the city in a 1987 Volkswagen Beetle.
In 2012, Mujica proposed a bill that made Uruguay the first country in Latin America to legalize marijuana, the aim being to fight crime and health issues. Additionally, Pepe left behind one of the strongest hispanic economies in recent memory. Under his command, Uruguay enjoyed a busy workforce with unsurpassed salaries.
Hispanic leadership had never seen an approach like Mujica's, and he will undoubtedly be missed.
4. Sonia Sotomayor
The Supreme Court of the United States had never seen such tenacity until Sonia Sotomayor arrived.
Born in the Bronx to Puerto Rican parents, Sotomayor is rumored to have been bitten by the courtroom bug after seeing early episodes of the then-popular TV series, "Perry Mason."
With inspiration coursing through her veins, she was admitted to prestigious Ivy League colleges, namely Princeton University and Yale School of Law, where she graduated summa cum laude and attained her Juris Doctorate degree, respectively.
Sonia worked her way up the ladder immediately upon graduating, as she began her career as an assistant district attorney in Manhattan. After a few years of private practice, Sotomayor caught the eye of then-President George H. W. Bush, who nominated her to a US District Court Judge position in New York City in 1992.
More recently, President Obama made headlines when he appointed Sonia Sotomayor as the first Latina to ever hold the position of Supreme Court Justice. Two years after being appointed by the Commander-In-Chief, Forbes named Sotomayor one of the world's most powerful women.
Sotomayor even wrote a memoir titled, "My Beloved World," in 2013. Justice Sotomayor has always lent a helping hand, and takes advantage of opportunities to give back.
Sotomayor is undoubtedly a female figure to emulate; not just with Hispanics, but also women everywhere.
5. Rafael Nadal
After Rafael Nadal set foot on the tennis court, the sport was never the same. Often referred to as the "King of Clay," Nadal was born on the Spanish Island of Manacor, to a family well-versed in athletics.
A natural right-handed individual, Nadal was coached by his Uncle Toni to be a left-handed player, in an attempt to gain an advantage over the rest of the tennis world.
Although he originally intended to play soccer, Rafael made the decision to hang up his cleats and pick up a racket instead. After he rose up through the juniors, his vicious playing style earned him a spot among the world's elite, including the number one ranking.
Now, at age 29, Nadal has racked up numerous titles, 14 of which have come via Grand Slam tournaments (Roland Garros has been very kind to him).
"Rafa," as he is known to most of his fans, appears to be slowing down due to age and fatigue. Nadal's presence on the tennis court is seemingly on the decline, and his confidence is wavering as of late.
His legacy, however, is already set in stone and will serve as motivation for hispanic players for generations.
Hispanic heritage isn't about celebrating standout Spanish speakers based on geographical location. It's about celebrating those who have contributed to humanity by pushing its limits, encouraging our peers to exceed expectations and making the world a better place to live.
This month, we salute you. Cheers.