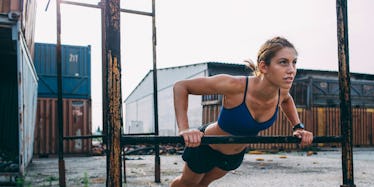 5 Foolproof Hairstyles That Will Last Through Even The Toughest Workout
Nothing's worse than being in the middle of a HIIT circuit and constantly getting a mouthful of your own long locks.
Last time I checked, hair was not a part of my macros.
There are plenty of excuses to skip a workout -- a House of Cards marathon, impromptu margs with your girlfriends, free burrito day at Chipotle, or even your bed looking extra cozy and comfy.
But of all those possible excuses, your hair getting in your face certainly shouldn't be one of them (yes, I probably should stop using these excuses in general, but that's besides the point).
Here are five easy, resilient, and of course, adorable hairstyles, that will last through even your most devastatingly difficult workouts.
1. The Side Pony (With A Twist)
The side ponytail is one of my personal favorites, particularly because it's the ultimate cure for fussy fly-aways.
It's kind of like Chinese food delivery: dependable, reliable, and always there for you when you're feeling lazy AF.
This version puts a (literal) twist on a boring ponytail, making it look super fancy without much added complication.
2. The Dutch Braid
I know it doesn't really look like it, but this is such a low-key badass hairstyle. Whenever I wear these dutch braids, I feel like I'm a cross between an MMA fighter and a warrior princess.
Whether you decide to show this style off at kickboxing or hot yoga, it's guaranteed to stay in place through sweat, sun salutations, and side-kicks.
3. The Ballerina Bun
Who said ballet buns were reserved only for prima ballerinas? We're taking this bad boy from Swan Lake to SoulCycle.
This video includes a "bun foundation" and hair net, which both come pretty cheap if you want to go all out for maximum hold.
4. The Braided Bun
This awesome hybrid hairstyle is sure to withstand just about any ab circuit.
I know what you're thinking... You just learned how to do a ballerina bun, and now you have to figure out how to combine it with a braid?!
This is way easier than it looks, though, and you'll fool people into thinking you teleported straight from your senior prom to the StairMaster. Totally worth it.
5. The Messy Bun
I call this hairstyle "The IDGAF" because I literally go to sleep with my hair in a bun, I wake up, and I'm somehow #blessed with this seemingly intricate updo.
A tutorial isn't really necessary for this one, but hey, if you're feeling particularly ambitious, I suppose there are ways to carefully sculpt the perfect mess.
This low-maintenance look was basically made for the gym, because when it gets a little tousled, it looks even cuter.
Tousle away -- your locks aren't going anywhere.