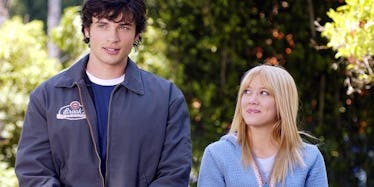 20 Things You Can Only Learn From Growing Up With Brothers
20th Century Fox
My adolescent years were an adventure. I grew up in a house filled with brothers — three brothers to be exact.
Usually people cringe and ask, "HOW was that?" Most people think growing up with all men in your family is miserable.
Yes, there were times when growing up with older brothers had its rough moments. There were days I'd constantly compare my athletic abilities to my brothers; there were days they would drive me crazy, pick fights with each other and then me. Somehow, he only girl end up as the referee.
And don't even attempt to think about what the bathroom once looked like.
But there are a multitude of positive outcomes from growing up with all boys, and in a way, a girl with that many brothers has an advantage. She learns how a guy thinks, as well as their unexplained quirks that only a guy understands.
I can only imagine what it would be like to grow up with a sister or as an only child. Chaos, a loud household and overall the "never a dull moment" vibe while growing up is the only thing I'm familiar with.
So, besides learning how to (sort of) read the male brain, growing up with brothers is an experience, an adventure and ultimately, the only way I would have ever wanted to grow up.
Here are 20 thing you learn while growing up with brothers:
1. You'll develop skin thicker than leather.
After all, who doesn't like a girl who can stand up for herself? Life is tough, but so are you.
2. Your taste in beer will prosper.
After all, who was your brothers' first drinking buddy? You!
3. Tying a bowtie and/or necktie is completely second nature.
No YouTube video required.
b
4. You'll know enough about almost every sport to hold a conversation.
But it's completely OK to know nothing about sports that don't interest you.
5. You'll be used to some healthy competition.
Chill, girl. If you lose in a sport to one of them, it's their height, testosterone or (insert excuse here) to blame.
6. Your brothers will tell you what they like about women.
Hint: Don't be afraid to eat like a pig around guys.
7. You acquire a taste for whiskey.
Whiskey is the king of alcohol, and your taste for whiskey puts you on a pedestal in any man's eyes.
8. You can take a shot of any alcohol without hesitation.
Except gin. Save yourself the pain.
9. Your first job was the role of referee or babysitter during your adolescent years.
You might have been the youngest, but you were definitely the most responsible.
10. You'll learn to accept yourself.
Brothers don't care how thin you are. They love you just the way you are.
11. You'll no longer cringe (or at least cringe as often) at guy-humor.
Although, there is a fine line...
12. Patience and simplicity.
Guys value their "chill" time, and you should, too.
13. Cooking really is the way to a man's heart.
Learn how to master one signature dish, and you're golden.
14. Your first "guy friends" were actually your brothers.
And they're the only ones who will be there until the end.
15. You can fish like a pro.
Just pack your patience. You might be there all day.
16. Your creativity will grow.
Guys are the best at coming up with excuses for anything.
17. Brothers don't really notice labels.
No need to purchase the over-priced designer shoes when you can purchase the off-brand for less.
18. Carbs are actually good for you (in moderation).
They give you energy. Enough said.
19. Brothers see things you don't.
They're completely OK with telling you a friend is annoying or a guy is a jerk.
20. Brothers never really grow up, they just learn how to act in public.
And I wouldn't have them any other way.