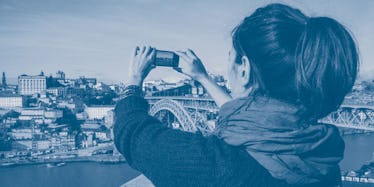 12 Travel Bloggers You Need To Be Following On Snapchat
Bisual Studio
When I first came across Snapchat, it had a reputation for teenagers sending cheeky photos to one another. Trying to convince people that it was the next best thing in social media was tough.
But Snapchat has evolved from those early days. The live story feature was a game changer. It gives the user an insight into the lives of their friends, favorite celebrities and top bloggers.
Through Snapchat, I follow many bloggers who inspire me, make me laugh and really show me the world through their adventures. You can't edit Snapchat. It's in the moment, uncensored and raw, and that's why I love it.
These are some of the most inspiring travel bloggers on Snapchat:
1. Katie: @the_hostelgirl
As the name suggests, Katie's blog The Hostel Girl focuses predominantly on hostels, but you'll also find city guides, road trips and tour reviews. The snaps of her trips are always entertaining, honest and funny, and she interacts with followers with giveaways and competitions. You'll generally find her in Morocco or Amsterdam, and her next trips are Czech Republic, Italy and Spain. Oh, and watch out for appearances from her cute little pug, Frankie, who often steals the show.
2. Mike: @kickthegrind
Mike is a break-dancing Marine Biologist turned YouTuber and photographer. If that's not reason enough to follow him, he uses Snapchat to seek out adventures, weird creatures and anything involving adrenaline. The reason I put him on this list is his YouTube experience makes him an awesome presenter, something which is a little rare on Snapchat. He was recently in Madagascar working on a project to save bamboo lemurs from extinction — awesome. The next few months will see Mike move to Mexico City, trek Machu Picchu, explore the Bolivian salt flats and a take road trip through Canada.
3. Petra: @travelmassive
Travel Massive is a community for travel professionals. The account is managed by Petra, a videographer from Prague. She mixes the snaps between her own adventures and behind the scenes of Travel Massive. She's recently been volunteering at a refugee camp in Idomeni on the Greece-Macedonia border, and she regularly posts Snapchat and blogging tips. In her words the next few months are a mystery, but one thing's for sure: You should follow the adventure on Snapchat and YouTube.
4. Nate: @worldwidenate
In Nathan's (aka World Wide Nate) snaps, you'll feel like you're living the experience. His descriptive presenting and massive smile make you feel his passion for travel. He'll show you adventure, food and culture from around the world, with an LA accent. The next trips for Nathan include India, Kazakhstan, Nigeria, Zanzibar, Kenya, South Africa, France, London and Australia.
5. Scott: @intrepidescape
So I do this myself too. You'll find me snapping crazy travel adventures, road trips and festivals. I'm a travel writer for Intrepid Escape from England. So you'll get mix of British humor and mickey-taking, mostly out of myself and my quest for the ultimate selfie. I'm trying a new extreme Snapchat feature, which will most probably see me lose my iPhone numerous times this year.
Look out for my next trips, which include Guatemala, Belize, California, Interrailing through Eastern Europe, South Africa, Israel, the Philippines, Colombia and Brazil, and hopefully a few music festivals before the end of 2016. You can also follow along on Instagram.
6. Will: @wthatton
Will from The Broke Backpacker is currently on a three-year adventure from the UK to Papua New Guinea, without flights. Right now, he's driving a tuk-tuk across India. His snaps are so entertaining, sarcastic and brutally honest, with language that's uncensored and probably NSFW It's great. He has a ton of adventures coming up, with plans to visit Pakistan, Bhutan, Nepal, China and Tibet, before Southeast Asia and eventually Papua New Guinea.
7. Brian and Noelle: @wanderingonblog
Brian and Noelle from Wandering On are an adventurous Irish couple who live to travel. They've been moving from place to place since 2009, exploring foreign cultures and food, and recently road-tripped across New Zealand. I love their snaps. They're funny, entertaining, interesting and all in an Irish accent. For their next adventure, they'll head to Eastern Europe and base themselves in Belgrade before heading to Australia for a year.
8. Alyssa: @mylifesamovie.c
Alyssa from My Life's a Movie is a self-made travel blogger who specializes in adventure and sarcasm. She's turned travel into a career and wants to inspire others to do the same. Her snaps show her adventures in real life, but I've included Alyssa because of her practical travel tips and tutorials. On top of this, she'll show you the behind the scenes of her GoPro shots on Instagram. Next up, she plans to head over to Asia and then visit Japan, the Philippines, Indonesia, possibly India and South America, and her dream destination is Antarctica.
9. Drew: @drewbinsky
In my opinion, Drew from The Hungry Partier is the king of travel Snapchat. He was one of the first and always keeps things entertaining for his followers with giveaways and Q&A sessions. He's obsessed with meeting new people and trying bizarre foods. Drew has visited 75 countries since 2012 and is one of those bloggers who is nearly always traveling. Drew's is currently traveling around New Zealand, Fiji, Vanuatu, Vietnam and the Philippines.
10. Becki: @bordersofadv
Becki is a British Travel Press Award-winning writer and avid explorer. Her website, Borders of Adventure, is a resource of travel, where she combines inspiration with social, historical, political and cultural reporting. Becki's snaps generally show her daily travels, but on top of that, she actually explains something interesting about the place she's visiting. She's just moved from Greece to Vienna, and her next trips around Europe are to Spain, Budapest, Ireland, Italy, Slovakia, Poland and Germany.
11. Alicia: @aliciaexplores
Alicia, aka Alicia Explores, is a travel and lifestyle presenter, writer and video content creator from London. Alicia's snaps are always creative, funny and a little crazy, and her 10 years experience making videos make her a great presenter on Snapchat. Alicia will also introduce you to everyone and anyone she meets as she travels (including the Bellman dancing to Justin Bieber in Miami). The next plans for Alicia are to head to Poland to honor her Polish routes, then visit Scotland, Amsterdam, and USA.
12. Tyson: @tysontravel
Tyson, aka The Naked Traveller, is not just a travel blogger. He's also a TV personality following appearances in Australia's "I'm a Celebrity...Get Me Out of Here" and "MTVTrippers." He's also a charity ambassador and recently claimed the title of "Chief World Explorer," which won him $100,000 and 12 months of travel.
But it's the charity stuff that got me hooked on his Snaps. When he spent time installing water filters in Africa, he took Snapchat with him to meet locals and get lost in urban favelas. Next up for Tyson is a new travel app, and then trips to China, Tanzania, Alaska, Cuba, Mexico, Italy, South Africa and possibly Antarctica.
So whether you're planning a round the world ticket, looking for inspiration for your next adventure or just want to try and satisfy your wanderlust, then these are the travelers to follow. All of us write about travel to inspire others, and, through Snapchat, we will literally show you the world through our eyes, one adventure at a time.