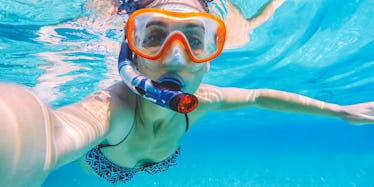 10 Things To Do In Panama That Will Make You Feel Just Like A Local
These days, Panama is going places. The country recently celebrated the 100th anniversary of its famed Panama Canal. Its historical quarter, Casco Viejo, is in the midst of an extreme makeover as an influx of local socialites, curious backpackers and affluent visitors mingle in its new open-air bars and refurbished plazas.
As we speak, this Central American country is rising in the ranks of several must-see destination lists. What does this mean?
Well, it means you should get going as well. Go to Panama now.
You shouldn't wait. You should go while the country is upgrading and the experience is still affordable. But before you do, here is a list of 10 things I learned on my trip:
1. The sun is no joke.
Eat your ice cream quick, or the sun will zap your treat quicker than you'll have time to slurp up the slush. Thanks to Panama's proximity to the equator, it shows no mercy for frozen delights.
It doesn't care for unprotected skin either. So, SPF up.
2. Be patient with public transport.
The bus schedule is more of a driver's suggestion than a rider's guide.
Headed to your zip line adventure in El Valle de Anton? From Panama City, hail a taxi to the Albrook bus terminal, look for your desired destination plastered on the row of windows, hand over your cash to board the appropriate vehicle and wait.
The buses — which feel like oversized passenger vans — don't leave until every seat is filled. I suggest making a restroom stop before you get on.
3. No Uber? Take a cab.
For shorter trips, $5 to $7 will get you a cab ride almost anywhere within and around the city. Taxis in Panama City are yellow and clearly marked.
Like Casco Viejo's evolving skyline, the city's fleet will roll up to you in a myriad of makes and models.
4. The shopping game is strong in the free zone.
The free zone is part holding area for goods on their way to Latin America and the Caribbean via the Panama Canal and part mega strip mall at mega-appealing prices.
If you'd rather save your Balboas for a few cold ones on the roof of your hostel, browsing the city's array of storefronts is stimulating enough. Don't have Balboas? Panama also accepts US dollars.
5. The Guna Yala people are a case study in kindness.
The indigenous folks who call the San Blas Islands their home are a friendly and good-humored bunch. They are proud of their little speck of paradise. Their tropical mound is, quite literally, an island.
6. I don't always drink, but when I do, it's like this.
Maybe this is a universal truth, but a mojito is best enjoyed outside, when the sun is beating down on you and the humidity is at an all-time high.
If you're puttering around Casco Viejo and are in the mood for this refreshing beverage, settle down at the place wedged between the Red Lion Pub and Italian restaurant. From the bar's patio, sip both your libations and the view of the city's skyline in the distance.
7. It's possible to be in two places at once (sort of).
According to our canal tour driver in Colon, Panama is one of the only countries in the world where you can greet the sunrise over the Pacific and bid farewell to the sunset beyond the Atlantic.
Believe me now?
8. Ask for fresh, and you shall receive.
The local fruit will reacquaint you with deliciousness. I was skeptical at first: I too grew up in the bountiful tropics.
But the fruit cup I had at a fruteria in the El Cangrejo neighborhood made me a believer. Just say "yes" to these naturally sweet treats.
9. Your beer money will go far here.
Is it just me, or is Panama City severely lacking in dark beer selections? There's no shortage of crisp pales, pilsners and lagers.
However, if you've a penchant for browns, porters and stouts, you'd better look elsewhere. Regardless, a trip to the local watering hole won't devastate your wallet.
10. Did I mention that it's hot?
Unless you enjoy waking up to your hair matted to your head and soggy, sweaty pajamas, booking accommodations that have air conditioning is a must.