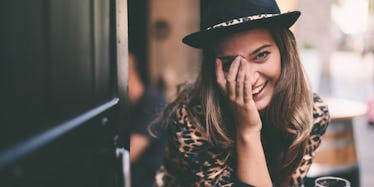 10 Things You Need To Just Accept Before You Can Be Truly Happy
In life, there is no manual or 10-step guide to happiness.
No one can explain why those who seem to have it all sometimes feel empty inside, while others who have almost nothing walk around with a constant smile on their faces.
There is no logical formula for happiness and no tangible item that can promise long-term joy.
Many of us walk through life feeling underwhelmed with our existence, and believing happiness is something of which we are in pursuit, as opposed to something we possess.
We set goals, believing certain things will make us happy: having more money, having that car, buying a house or even those shoes.
Then, once we have said things, we cannot comprehend why we still feel the same. The thing is, no one knows what happiness is or how to achieve it (not even those who have it).
But, if we work around the assumption that happiness is a frame of mind, there are some things we need to work on accepting before we can ever truly achieve it:
1. You can't control everything -- get used to it.
Instead of obsessing about things you can't change, take control of the things you can.
You can't follow the same routine and expect a different outcome. In order for your life to change, you have to make some changes.
2. Your life might turn out differently from what you planned or expected.
Everyone has a vision of what life might look like five or 10 years down the line.
Subsequently, every one of us is living in the shadows of our unfulfilled expectations and plans, and we find ourselves saying things like, "I thought I'd be rich by now," or "I thought I'd be engaged by now."
The fact of the matter is your life may very well take a different route than what you had envisioned, but just because the journey is different to what you expected, doesn't mean you won't reach the same destination in the end.
3. There will always be bumps in the road.
Count your blessings, not your troubles.
Your life is never going to be perfect because there's no such thing. We spend so much of our time complaining about what could be better, instead of focusing on the things which are pretty damn good.
The truth is you'll never be happy if you spend too much time focusing on your shortcomings because eventually, they are all you'll be able to see.
4. There will always be someone whose life is better than yours.
The secret to happiness is to stop comparing yourself to others.
5. Accept that your life is working out exactly how it's meant to.
We believe things happen for a reason because we have to. The thought that every tiny action is a catalyst to more random events, and that even the smallest decision could change the entire outcome of our future, is too terrifying to contemplate, so don't.
Let go of what you thought should happen and live in what is happening -- it's happening for a reason (well, probably).
6. Remember, there's only so much you can control.
The rest is down to luck and timing. Have faith in your own story; it's not over yet, and even if you're unhappy now, there may be a plot twist in chapter 19.
7. You've made some mistakes and you'll probably make some more.
It's not the end of the world.
Instead of worrying about every small regret, ask yourself, "Will this matter in a year?" If the answer is "no," then, perhaps, it's not something you should spend hours worrying about.
8. You can't keep everyone happy.
If you spend too much time trying to please others, you'll end up pleasing everyone but yourself.
Learn to say "no" every now and then because, sometimes, you just need to focus on the things important to you.
9. Some things are out of your control -- let them happen.
Fighting things you can't control is a waste of your energy.
You can't smash a plate and expect to control where the pieces fall. When times are tough, it's best to let the pieces fall where they may and then work on putting them all back together again.
10. Set some goals, then demolish them.
Life is more exciting when it's filled with possibilities. Set some goals and then work toward achieving something you want.
While you're at it, try to remember being happy isn't about accomplishing everything you have on your to-do list, but how much fun you have while attempting to achieve each and every life goal.