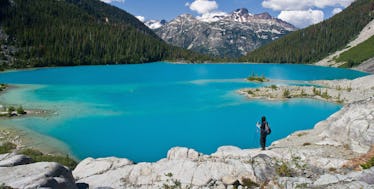 10 Stunning Lakes That Will Make You Want To Visit Canada In A Hurry
Shutterstock
When you're planning your next vacation, don't underestimate Canada. I'm Canadian, and one of the things I brag about the most is how gorgeous some of our lakes are. Canada is home to surreal scenery people travel all around the world to see.
I'm talking jaw-dropping, picture-perfect, am-I-looking-at-a-postcard-or-is-this-reality lakes. There are many hotels and campgrounds around these magnificent bodies of water, and here are 10 gorgeous lakes that will make you want to visit Canada ASAP:
1. Joffre Lakes — Pemberton, British Columbia
Joffre Lakes Provincial Park contains one lower lake and two upper lakes. All three will truly take your breath away, as they are glacier-fed and a stunning color of blue, enveloped by beautiful mountains.
While the lower lake is accessible via a five-minute walk from the parking lot, the two picture-perfect upper lakes are at a higher elevation and are only accessible via a steep uphill hike. After hiking for a couple of hours, you'll reach the first upper lake, and within another hour or two (depending on your speed), you'll reach the final lake.
Each lake is different, and it's worth the trek to see all three.
Although there are no hotels in the vicinity of Joffre Lakes, it still makes for the perfect camping trip. If you plan on hiking to see all three lakes, and you don't want to camp overnight, you can easily complete the round trip hike in one day.
But, you should start early. You don't want to get caught in the dark on your way back down to the parking lot.
Less than an hour drive from Joffre Lakes is Whistler, BC, a very popular and charming resort village that has plenty of hotels for you to stay the night in after your day at Joffre. I'd suggest the Pan Pacific Whistler Village Resort, as it has that whimsical hotel-in-the-mountains resort vibe.
2. Okanagan Lake – Penticton, British Columbia and Kelowna, British Columbia
Yes, you read that right. The Okanagan Lake is so big it spans more than one city (Penticton, Kelowna and Vernon). Not only is it big, but it's also incredibly beautiful and warm. Several gorgeous lakeside resorts line Okanagan Lake, some of which even have their own private beaches.
Not all of Canada's lakes are too cold to swim in. The Okanagan is one of the warmest areas in all of Canada, so Okanagan Lake is guaranteed to be a hot and sunny destination ideal for swimming, boating and sunbathing during the Okanagan's warm summers.
The Okanagan also has some of the world's best wineries, and the area's Uncorked wine tour is amazing.
The Penticton Lakeside Resort is right on the lake. It has its own private beach, and it also boasts world-class dining and an on-site casino to ensure that the fun doesn't end after sunset.
3. Lake Lousie — Banff National Park, Alberta
Lake Louise is the type of lake you have to pinch yourself to believe you're really staring at it. The unique color of the water changes from emerald green to turquoise blue, depending on the season and the daylight. It's a glacier-fed lake that is so gorgeous, it's been featured on TV shows such as "The Bachelor."
The Fairmont Chateau Lake Louise is an iconic luxury resort hotel with stunning views of Lake Louise and the Victoria glacier mountain. From canoeing and horseback riding in the summer, to horse-drawn sleigh rides and ice skating in the winter, this area is magical any time of year.
4. Morraine Lake — Banff National Park, Alberta
If you visit Lake Louise, you must also travel 8 miles south to Morraine Lake, which is an equally amazing lake not to be missed. Moraine Lake is another stunning glacier-fed lake in Banff National Park you'll have to see to believe. It's located in the Valley of the Ten Peaks at an elevation of over 6,000 feet.
Not only are the waters of Morraine Lake a surreal, piercing blue, but the backdrop of the lake is of ten snow-capped mountain peaks. The ten mountain peaks run along the Continental Divide, which marks the border of British Columbia and Alberta.
It's best to visit this lake in the summer, when it's full and at its brightest of blues. Due to the high elevation of this glacier lake, you can actually only view the lake via the road from June to September.
The rest of the year, you have to ski to see the lake, which takes about two hours (no snowmobiles are allowed in Canada's National Parks).
5. Maligne Lake — Jasper National Park, Alberta, Canada
Another stunning glacier-fed lake in the Canadian Rockies is Maligne Lake, a spectacular 27-mile wonder that sits a tiny but beautiful island called Spirit Island. The color of the water is an amazing vibrant blue, and Spirit Island is one of the most photographed locations in the world, due to its unique, small grouping of trees perceived to be situated directly on the water.
Don't miss your photo-op on Spirit Island, which is easily accessible via kayak or stand-up paddle board. From spring to summer, boat tours are available from the town of Jasper to Spirit Island.
Jasper also has several beautiful resorts and hotels. Adding to Maligne Lake's ambience is the presence of the Great Canadian Moose that feeds along the shores by Spirit Island.
6. Garibaldi Lake – Garibaldi Provincial Park, Whistler, British Columbia
Garibaldi Lake cannot be reached unless you commit to a two to three hour steep uphill hike. (The Garibaldi Lake hike is five to six hours round-trip.) The fact that it is not accessible via car or bus maintains this gorgeous lake's peaceful and secluded vibe.
Another thing that makes this glacial lake so special is that it is a very clear turquoise-blue, lined with glacier-capped mountains and lush green trees. Some are brave enough to swim in the chilly waters, and others just sit on a high rock and enjoy the surreal view.
Some hikers use Garibaldi Lake's campground to sleep overnight, and others forgo lugging camping gear and instead do the round-trip hike in the same day. No matter which option you choose, you can't go wrong, as long as you see the lake and spend some time taking in the view before heading back.
Several resorts and hotels are located in Whistler Village, only 12 miles away via car, once you finish your hike. Another option after your hike is to stay in the beautiful city of Vancouver, British Columbia, which is a one-and-a-half-hour drive from Whistler.
7. Alice Lake – Alice Lake Provincial Park, Squamish, British Columbia
While you're in the Whistler area, you must visit Alice Lake in the neighboring town of Squamish, British Columbia. This lake is a unique gem, as it is emerald-green in color, and it's enveloped by lush green forests of BC's famous tall fir trees.
While there are hikes and trails that surround Alice Lake, many people simply drive to Alice Lake and enjoy a full day there. The lake has its own beach, and the water is warm enough to swim in or float on inflatables in. It's a great spot for sunbathing in the summer, bringing a picnic and reading a book.
8. Eva Lake – Mount Revelstoke National Park, British Columbia, Canada
Eva Lake is a serene, peaceful and beautiful lake located about halfway between Vancouver and Calgary, in Revelstoke. Eva Lake isn't easy to see, as it's about a 7.5-mile hike round-trip, but it's gorgeous and completely worth it.
Not only is Eva Lake a beautiful turquoise blue or emerald green, depending on the time of year, but it's also surrounded by lush green forests and wildlife. If you go in August, you'll catch the amazing abundance of wildflowers when you hike to Eva Lake.
The trail itself that leads to Eva Lake is beautiful, and there are other small lakes to stop and see along the way.
9. Bow Lake – Canadian Rockies, Alberta
Bow Lake is a small but absolutely stunning glacial lake on the Bow River in the famous Canadian Rockies of Alberta. Bow Lake boasts a view of the incredible Crowfoot Glacier Mountain. Bow Lake's water is a magnificent turquoise blue that will take your breath away.
10. Lake O'Hara – Yoho National Park, British Columbia
Lake O'Hara is highly protected by Parks Canada. It's in a alpine environment that is only accessible via a private shuttle, which you may need to book months in advance. The surroundings offer alpine hiking and romantic log-cabin style lodging.
At an elevation of over 2,000 feet, this secluded and unbelievably gorgeous glacier lake is a natural wonder you won't want to miss.