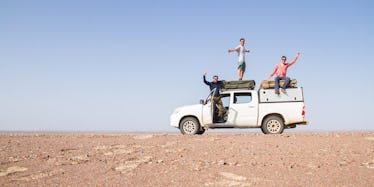 10 Holiday Gift Ideas For The Friend Who'd Rather Spend Money On Experiences
Psychological research has proved again and again that people who choose to spend money on experiences tend to be happier.
Another study recently indicated that 72 percent of Millennials prefer to spend more money on experiences than on material things. So we're on to something here; our generation has figured out that experiences directly lead to a happier self.
Not much of a surprise, since we're the generation that loves to do, live, enjoy and relish in the world while we're young and able.
So wouldn't it make sense that as we head into the holiday season, we consider experiences as gifts over material things?
Instead of gifting a cool drone, a hefty Starbucks gift card or asking for a new pair of Yeezy boots, think about once-in-a-lifetime experiential gifts to give (or request!) this holiday season.
Below are 10 ideas for every kind of personality: adventure seekers, lovers of luxury, spirit connoisseurs, history fanatics and more.
See Manhattan's Skyline on a Private Charter Yacht
Float past New York's iconic landmarks like the Statue of Liberty, Brooklyn Bridge and One World Trade, while enjoying a three-course dinner and handcrafted cocktails on Elite Private Yachts' luxury charter fleet.
Complete with a captain, private chef, butler service and customization in every way, skyline enthusiasts take in unprecedented views of the sun setting behind the city from the elegant lounge-style deck. You can even dance the night away as the melodies of an acoustic trio echo about the open water.
Experience the Holy Land's Archaeological Treasures
Explore Tel Aviv's renowned archaeological sites and ancient wonders, soak up Southern Israel's sunshine along Eliat's pristine beaches or rejuvenate amidst the Dead Sea at the nature reserve's only wellness and spa resort with EL AL Israel Airlines and Isrotel Hotels' luxurious winter escape.
Enjoy round-trip air and six nights of modern luxury accommodations for a culturally immersive Israeli experience.
Drive Monaco's Grand Prix Track
Exclusively offered through Hotel Metropole Monte-Carlo, guests "get dizzy with speed" behind the driver's seat of an F1 race car, as they maneuver the turns of the famed Circuit du Luc track in Provence.
To ensure a safe and smooth ride, guests take a workshop led by a certified Formula 1 driver.
Fly a Private Seaplane to Key West for Luxurious Getaway
Casa Marina is the only hotel in Key West offering air service directly to the resort's beach from all Florida cities. In addition it now offers travel by seaplane to the resort's beach for a two-night stay.
Following a preflight champagne toast and aerial views over the island, guests bypass check-in and are escorted directly to their oceanfront suite where two pairs of Ray Ban Aviator Sunglasses and cocktails await.
Hike Peru's Machu Picchu and the Sacred Valley
Experience the famed hike in Peru before it's closed or changed for good. Enjoy a once-in-a-lifetime opportunity to hike the celebrated Inca Trail, and discover mystical Machu Picchu during VBT Bicycling and Walking Vacations' unforgettable vacation in Peru.
Learn how ancient Incan traditions endure in modern Peru and stroll the cobbled streets of Cusco (a UNESCO World Heritage site).
Taste the World's Most Exclusive Armagnac Spirits
For spirits aficionados, Del Frisco's Double Eagle Steak House New York offers a rare experience with pours of exclusive Armagnac bottles served tableside with the same pipette used at Remy Martin's distillery.
Featuring a variety of hand-picked blends and vintages including Louis XIII Rare Cask (one of only two in NYC) and Pappy Van Winkle, guests can enjoy the perfect tastes to pair with Del Frisco's hand-cut steaks. Practice your best sommelier swirl now.
Take a Ride into the Past on WWII Airplanes
For the history buffs in your, the National Warplane Museum in Geneseo, New York offers flight rides on restored historic World War II aircrafts. You can experience a ride on the actual Whiskey 7 transport plane that was used in 1944.
See Victoria Falls on a Zimbabwe Safari
Cross one of the world's natural wonders off the bucket list on CW Safaris' guided walking safari.
With a knowledgeable guide, you can follow trails along the rim of Victoria Falls, and get closer than you ever imagined to wild elephants inside a lodge's innovative underground "look-up" blind.
View the Finger Lakes' via Hot-Air Balloon
Los Gatos Bed & Breakfast allows travelers to have a one-of-a-kind experience in the wine region of the east.
The package includes cabin or suite accommodations, daily breakfast and a hot air balloon ride.
Guests board the basket and glide over the rolling farmland, soar through vineyards and sweep over the pristine Finger Lakes. #AllTheWayUp.
Experience Charleston by Land, Sky and Sea
Guests of the French Quarter Inn can explore the historical city via helicopter tour with champagne, private horse drawn carriage tour, harbor sail on a chartered luxury yacht and a three-course dinner at one of Charleston's top eateries.
This Charleston experience is complete with complimentary amenities including locally-sourced artisan breakfast delivered in-room, port wine nightcap service, afternoon wine and cheese hour and freshly baked desserts before bed, every day of your trip.
If you're dipping into your pockets and giving any of these fantastic gifts for the upcoming holiday season, you must really like the recipient.
Hopefully they like you enough to bring you along for the ride.