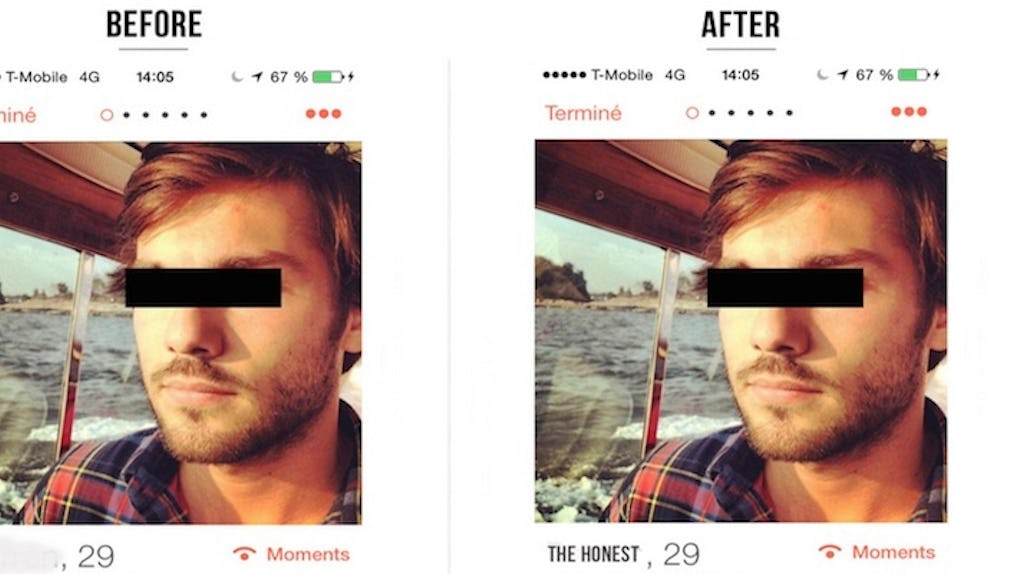 Tumblr
Woman Hilariously Recreates Tinder Profiles Of Guys She Met On The App (Photos)
After being disappointed by way too many crappy Tinder dates, New York resident Nathalie Lepaffe is turning the game on its head.
The 24-year-old from Belgium recently launched Honest Profile, a hilarious project rewriting users Tinder profiles based on her experiences with them.
What started as a personal project for a class at school since turned into a full-fledged Web series.
Each entry features a screenshot of the user's original profile coupled with Nathalie's revamped version.
To keep her dates' identities private, she blocks out their eyes and blurs their names via Photoshop.
On the project's Tumblr page, Nathalie wrote,
I've spent way too much time on Tinder and I don't even like it. I [could've] quit, but I'm not a quitter. I wanted to do something good for the world. So, I've decided to actually meet them, and rewrite their profiles after the first date. Their Honest Profile.
The project, however, came with an unexpected side effect — a bonus, if you will.
Nathalie told Daily Mail,
[I've] discovered that writing an honest profile after a date was a good way for me to realize what I didn't like about it and [what] will probably be an issue in the future.
Launched in February of this year, the Tumblr page currently has five entries; Nathalie took a bit of a hiatus to travel.
But, she plans on starting back up again soon, and she's encouraging fans to submit their own entries.
She joked,
[Fan entries will] keep it interesting.
Check out her entries below.
Of The Nice One, Nathalie wrote, "Everything that comes out of my mouth sounds like an apology."
For The Creep's profile, she said, "These abs are probably not mine."
Clearly not a fan, Nathalie refers to The Musician as a "cheap bastard."
But in a more positive review, she believes The Honest is, in fact, an "honest guy."
And finally, The Douche, according to Nathalie, is a "5'11" Wannabe Iron Man."
Citations: Woman Writes Witty Series of Honest Tinder Profiles for the Men She Has Met Via the Dating App (Daily Mail)