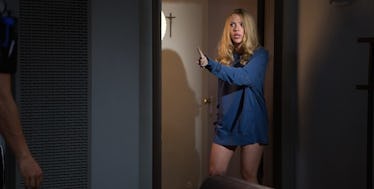 Man Gets Caught By Wife After His Porn Collection Becomes His Screensaver
Relativity Media
There are various schools of thought when it comes to keeping porn saved on your computer or phone: from hiding files in a folder called "Misc" to an encrypted hard drive that can only be unlocked with a 20-digit password kept in a separate safe that can only be opened with your fingerprint.
However, I've yet to come across a strategy that involves keeping the pictures you don't want people to see in a folder titled "My Pictures."
This is especially true if you're someone who decided to make the upgrade to Windows 10 after it was officially released last week. Because as it turns out, when the operating system selects photos to display as a screensaver, it's going to go to the place where photos are stored by default.
That's a recipe for an awkward situation, especially when you set your system to upgrade overnight and don't wake up before your wife, like one man on Reddit found out.
Loaded up WIN 10 last night and left it on to do its thing. Woke up to wife asking why I set it to rotate all my porn images right on the desk top view. I have no idea how to shut that feature off and that computer is staying shut down until I do. Free windows and a free trip to the doghouse. Thanks Microsoft!!! Don't make my mistake, keep your private pictures out of My Pictures, no matter how deep you hide them in sub folders.
Sage advice everyone should take to heart.
Citations: Windows showcases users porn stash on homescreen (WIRED)