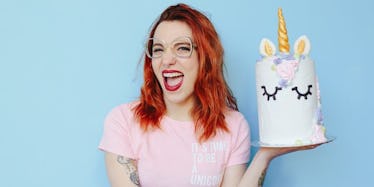 The 10 Weird, Unofficial National Days No One Wants To Celebrate Ever
If you're annoyed with all of the random national days (marketing opportunities) that exist just to get you to spend more money, you're not the only one.
Scrolling through your social media feed is a lot like flipping through a magazine these days, except the ads are presented in hashtag form and promote unofficial holidays created to support disguised ad campaigns.
For instance, this tweet from Ice Breakers promotes #NationalUnicornDay.
WHY?
Why do we need to "make the most" of such a wacky, unofficial holiday as if the existing official annual holidays and federal holidays aren't enough to celebrate?!
At the same time, some these ridiculous national days can be fun to celebrate with friends and family. Not to mention, kids usually get a kick out of days like National Eat Ice Cream for Breakfast Day.
And then, there are the days like National Siblings Day and National Pizza Day, which are both totally deserving of your acknowledgement. In other words, not all of these obscure days are unnecessary.
That's precisely why we should only get rid of the unofficial national days that are 100 percent pointless AF, like these...
National Walk Around Things Day
April 4 marks National Walk Around Things Day, a designated day in which you are encouraged by some imaginary force to, well, walk around things.
I'm not too sure why we need this day, but by all means get that cardio in.
National Lumpy Rug Day
It'd make sense if there were a day dedicated to shopping for a new rug or carpet, but National Lumpy Rug Day is just ridiculous.
On May 3, Americans are encouraged to appreciate their "old lumpy rugs and the comfort they have brought to your home," according to the National Day Calendar.
I'm not sure we need an entire 24-hour day to get that done, guys.
National Do A Grouch A Favor Day
If we're actively looking to make America great again with all of these random national days, National Do A Grouch A Favor Day shouldn't be a thing.
Instead, February 16 should be deemed National If You're Grouch, Don't Be A Grouch Today Day.
National Ampersand Day
I get it. Ampersands are fun to use when you're chatting it up in a group text, but why National Ampersand Day steals the spotlight on September 8 is beyond me.
So what, it's a shortcut symbol for "and," and... ?
National Step in the Puddle and Splash Your Friends Day
Why would anyone want this to be a day?
Something tells me National Step in the Puddle and Splash Your Friends Day was created by someone who's never actually been drenched in old rain water by a city bus en route to work.
Don't hang around any of your easily influenced "friends" on January 11.
National Paper Bag Day
Despite the National Day Calendar's claim "millions of people use paper bags every day," why July 12 is dedicated to a type of bag is unknown.
If you must, rage with your paper bag son this special day (or don't).
National Toothache Day
On Wednesdays, the Plastics may wear pink, but on February 9, we're supposed to be celebrating toothaches for some strange reason.
If you must observe such a weird unofficial holiday such as this one, I'd highly suggest swapping that liquor store visit with an appointment to see your dentist, and make sure all is well.
National Pizza with the Works Except Anchovies Day
With my deep hatred for pointless national days, you'd probably be surprised, but I actually support National Pizza Day.
National Pizza with the Works Except Anchovies Day, however, is just overkill at this point. November 12, I'll do whatever I want with you.
National No Dirty Dishes Day
OK, America. We've reached a new low point if we need a day dedicated to making sure there are no dirty dishes in the sink.
That's something you should take care of every single day, not just on May 18, lazy butt.
National Open an Umbrella Indoors Day
According to the handy-dandy National Day Calendar, you're encouraged to open an umbrella indoors on March 13.
You're supposed to "test the theory that opening an umbrella inside brings bad luck by doing so and noting any bad luck that comes your way."
Hard pass.
National National Day Day
Shockingly, this one doesn't actually exist, but I wouldn't be surprised if it did! At this point, it's safe to say we'll never see the end of ridiculous national days.
After all, there are approximately 1,500 unofficial holidays floating around out there waiting for you to take them seriously.
Last time I checked, there are only 365 days in a single year, yet there are nearly five random "holidays" on each day.
Again, WHY?