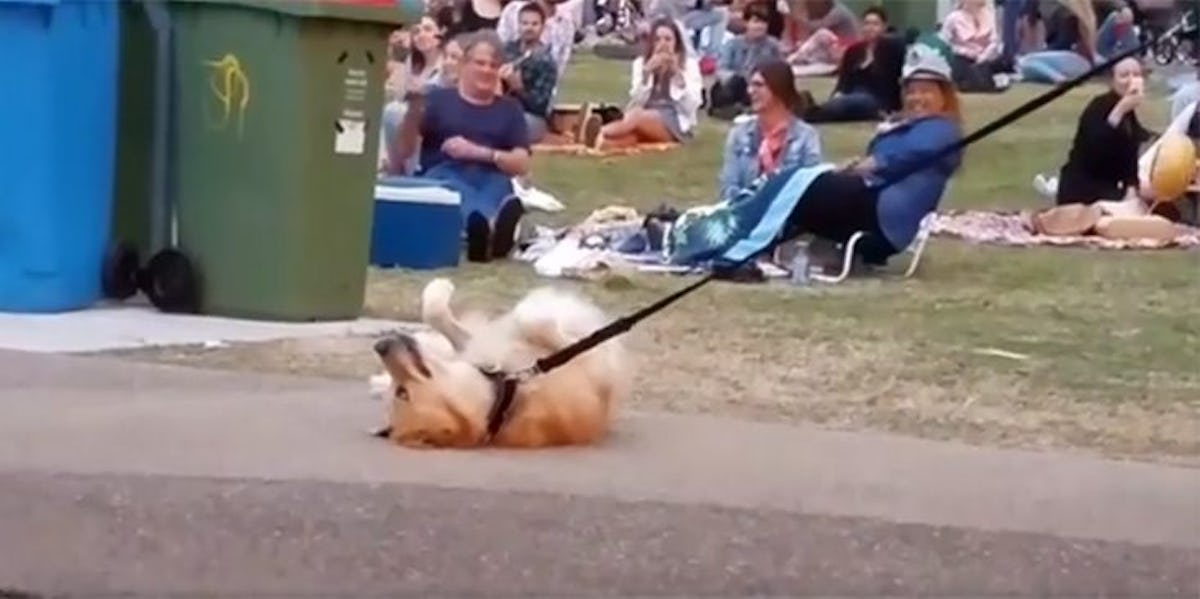 This Dog Refusing To Leave The Park Is All Of Us Getting Out Of Bed On A Monday
9 News Gold Coast / Kristen Bohlsen
After a weekend of summer fun, waking up on Monday is hard to do. Oddly enough, a new viral video of a dog refusing to leave the park illustrates the same struggle we all feel when the Monday morning alarm buzzes. While the Australian pupper is actually bummed he has to leave Gold Coast's Burleigh Hill, his "playing dead" stare is eerily relatable.
Australia's 9 News Gold Coast shared the now-viral video of the stubborn golden retriever, which was shot by Kristen Bohlsen. In the 44-second clip below, you can see Bohlsen's fellow onlookers reaching for their phones to record the pup's hilarious reaction to park time's end.
In the video, he rolls on his back and proceeds to play dead in front of the crowd. The relatable pooch's owner even grabs his paw and pulls at his leash, hoping to get him moving. (Throw a cozy duvet on him and add an hour of snooze button pushes and you've got a familiar "oh no, it's Monday" vibes, am I right?)
After a while, he finally moves after his owner removes the leash and walks away -- and of course, he gets an applause for it. It's the kind of support we all need, honestly.
Judging by some of the comments beneath 9 News Gold Coast's video, this particular dog is a regular at Burleigh Hill, as many people recognized him — and his persistent behavior. "We see this dog every weekend, such a character!!" someone wrote, proving that this sassy dog wasn't performing for the viral fame.
However, that doesn't take away from the fact that he is all of us on Monday mornings. Another commenter summed up all my feelings, writing, "Actual footage of me getting out of bed on Mondays."
We are this golden retriever, and this golden retriever is us.
Remind me to watch this next Monday when I cannot leave the comfort of my bed. If this pooch can do it, so can I.