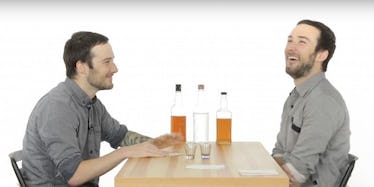 Brothers Answer If They'd Have A Threesome Together In 'Truth Or Drink' (Video)
The biggest takeaway from this video is being a twin doesn't automatically make you a weird sexual deviant like we all just assume.
Les and Brandon are normal twins who do normal twin stuff like occasionally pretend to be each other and talk about which one is their parents' favorite.
They specifically DON'T do things like hook up with the same women and make out with each other in their bunk beds.
Why don't they do those things? Probably because they aren't sex freaks.
I feel like people just think all you do when you're a twin is engage in awkward sexual stuff and see if you can feel when the other twin gets hurt. Neither of those is an actual twin thing, and at least one of them makes for a super weird Thanksgiving dinner table.