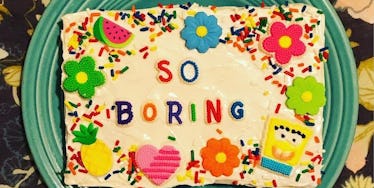 These Hilarious "Troll Cakes" Will Turn Offensive Comments Into Delicious Treats
Courtesy of Troll Cakes
Don't enter the murky waters of the internet unless you're prepared for the results. Deep in the hollows of the world wide web are internet trolls waiting to take out their frustration on your latest post. Things could get vicious — and quickly — so it's best to tread lightly. However, if that one nasty user just so happens to write a funky comment, there is a possibility it could be turned into a cake. That's right: "Troll Cakes" turn mean comments into cakes and provide a lucky New York City bakery with an unusual twist.
Perhaps someone has a mouthful to say on Facebook. Troll Cakes finds the comment, tracks down the user with its super sleuth Nancy Drew ways, creates a cake with those nasty words, and delivers it right to the trolls' doors... though at times it's hard to actually believe that these people exist in real life and not solely behind a virtual username. To top it off, the bakery provides a cutout of the comment on the cake's box. Trolls will then be able to enjoy a nice piece of chocolate brownie cake, but let's hope this in-your-face approach will have them thinking twice before posting hateful words again.
As you might imagine, some comments can get pretty intense, and unnecessarily so. But then, there are the humorous ones that are simply destined for a vanilla-frosted treat.
Take a look at this bad boy.
No troll can resist some snark.
You've been warned — follow at your own risk.
Messing with the Bielbers, are you?
Plain and simple.
Sorry not sorry, Beth.
I myself have received some nasty comments throughout the years, one claiming that karma will catch up with me (I guess I've committed a few murders in another life?), while another insisted anything I cover in the political realm is way over my head. I'd be lying if I told you these comments don't make my blood boil, but at a certain point, when you're a journalist in the 21st century, you have to just shrug it off.
However, some people cannot. While yes, it's funny to get rewarded with a cake after trolling anti-Justin Bieber fans, keep in mind that what you say to others online has consequences. You might be behind a screen, but that doesn't excuse your behavior... so think about that while you're enjoying a slice of cake.