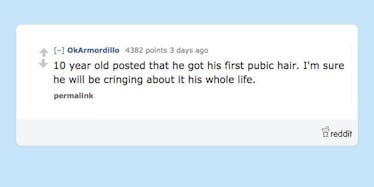 TMI: If You Do Any Of These 10 Things On Social Media, You're An Oversharer
Reddit
Social media, by design, is an arena for oversharing.
There's Facebook, to keep friends and family up to speed on our lives; Instagram, which adds a visual aspect to the information-sharing; and the worst offender, Twitter, through which we share the most mundane minutia of our day-to-day activities.
That said, there are limits to what we should share. Posting pictures, for example, of your newborn baby? Awesome. Posting pictures of the delivery? Not so much.
Most of us are fairly adept at distinguishing between what should be shared and what should be kept private -- but sadly, not everyone is.
So, to make all of our lives easier, I've put together a list of some of the things that never should be shared on social media.
By no means is this list comprehensive, but if you've committed any of these social media faux pas, it's safe to say you're an oversharer — and on behalf of the entire digital community, I'd like to kindly ask you to tone it the f*ck down.
Below, via the fine folks of Reddit, are 10 things you should never share publicly on social media.
1. Dick pics (especially if it isn't your dick)
2. A photograph of your menstrual blood
3. Literally anything about your pubes
4. Everything this sister-in-law shares
5. Your sexual preferences
6. Pictures of corpses, no matter how sad you are
7. The physical characteristics of your cervix/balls/assh*le/etc
8. Pictures of your child's bowel movements (or anyone's, for that matter)
9. Details of your labor/ your child's delivery
10. An actual video of childbirth