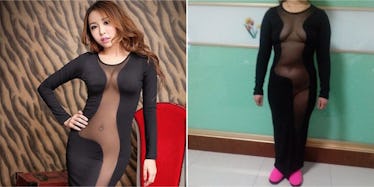 Girl Ordered Dress Online And It Ended Up Looking Nothing Like How It Did On The Model
See-through dresses are a staple on episodes of "Maury" and inside nightclubs you immediately regret going to, but that doesn't mean it's impossible to wear one without looking trashy.
Actress Jaimie Alexander managed to wear one to the premiere of the second "Thor" movie, and a Chinese  website called Taobao did what Chinese retailers do best by offering customers a fake version of the dress.
It's technically not the same dress -- it's just a mirror image.
Class out the... well, you know.
One woman, who was likely convinced buying the dress would results in a life filled with luxury and walls covered in animal print (which should have been implied), decided she had to have the dress in her life.
I'm assuming she felt different once she actually received it.
Blurred for everyone's protection.
This one is not blurred. Scroll at your own risk.
The shoes really tie the whole outfit together.
Citations: Girlu2019s photos highlight the gulf between expectation and reality when it comes to online shopping (Metro )