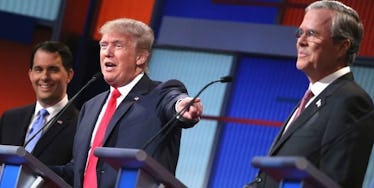 This 'Bad Lip Reading' Of The Republican Debate Will Leave You In Tears (Video)
From the people who brought you hilarious dubs of NFL games and Beyoncé's "LA FWAY" comes the best effort yet in the "Bad Lip Reading" series.
The first Republican debate can be a tedious affair for some and an infuriating one for others, but this hilarious dub turns the broadcast into a political event that transcends party lines.
The video features a musical finale, and it stylistically speaks volumes about each candidate -- volumes I need to believe are true to life.
Also, keep an eye on Dr. Ben Carson who, in this version of events, is the underdog to beat.