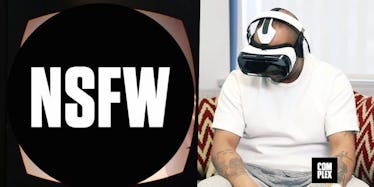 Rappers Watch Virtual Reality Porn And Enjoy It A Little Too Much
Pornography has always been a driving force behind the advancement of new technology, and as we slowly get closer to a virtual reality you never want to leave, smut masters are giving us a glimpse into the future lonely people have dreamed about for years.
Complex already had normal people and old people sit down and document their experiences with porn on the Oculus Rift, but they upped the stakes this week by reaching out to some higher profile porn connoisseurs.
Rappers like Action Bronson and A$AP Ferg sat down for a test ride before sharing their opinions. A few of them predicted we'll eventually end up like the people in "Wall-E," and at least one of them wished he hadn't worn sweatpants.