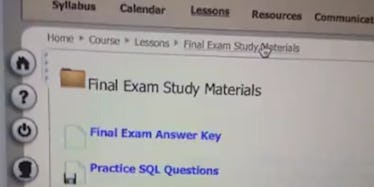 Professor Hilariously Trolls Class With An 'Answer Key' For The Final (Video)
The thought of taking another final sends shivers down my post-grad spine, especially if it's cumulative.
There's nothing I'd like to do less than fashion note cards out of my half-assed notes taken on PowerPoints that don't even begin to explain the material.
One professor from Penn State University recognized the agony his or her students were feeling over their upcoming final and decided to have a little fun to ease their stress.
Among the study materials on the school's online course management system, students were surprised to find what was apparently a "Final Exam Answer Key."
Glitch or not, you know everyone was on his or her toes, ready to lock in the answers to a guaranteed A.
But upon clicking it, students were disappointed to find Rick Astley is "Never Gonna Give You Up" the answers, kids.
This professor gets an A+ in Internet Trolling 101.
Citations: Penn State Professor With The Ultimate Finals Troll Move (Barstool Sports)