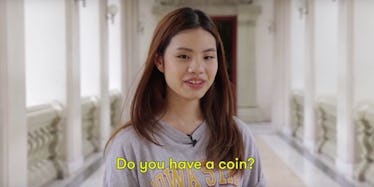 These Pick-Up Lines From Around The World Are So Totally Cringeworthy (Video)
OK! DUDES IN BOGOTÁ! LET'S PRETEND LIKE YOU HAVE MOTHERS AND CHILL OUT FOR A SECOND!
Cut Video went around the world to find out how dudes pick up women in different countries, and honestly, the results were pretty cute, expected and fairly standard, for the most part.
Of course, guys in France call girls angels. Of course, bros in Bangkok jokingly ask for money to call their moms to let them know they found their matches. And of course, dudes in Seattle are terrible at talking to women... Pokémon reference? Come on. That was ironically cute for three weeks in 2010, tops.
All the lines are sweet and mostly harmless, except in Bogotá because Bogotá is apparently full of awful trash dudes who shouldn't be around anything not with a penis.
Apparently, guys in Bogotá drop romantic lines like,
Get my cement to harden so I can sculpt a monument of you.
Leaving the clear flaw in logic -- wet cement is easier to sculpt! -- out of it, that sounds awful.
Ladies, steer clear BROgotá.
Citations: PICK UP LINES FROM AROUND THE WORLD ARE AS BAD AS YOU THINK (Playboy)