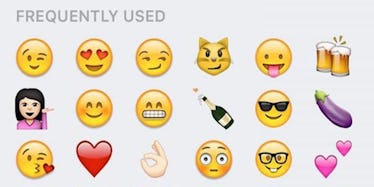 What Your Most Frequently Used Emojis Probably Say About You As A Person
Elite Daily
I never knew how confused my parents must have been when texting became the most common way to communicate. At least, I never understood until a few years ago when people started conveying their emotions via collections of yellow smiley faces and a seemingly arbitrary selection of animals and inanimate objects more commonly known as emojis.
I didn't get an iPhone until five years after the launch of the original model, and I think it took me another year to figure out how to add the emoji keyboard, which I could use to see how little progress I'd made since unsuccessfully using emoticons to flirt with girls on AOL Instant Messenger (AIM) back in middle school.
I started to hone my craft, and it eventually reached a point when I was no longer using emojis purely for their ironic value. (Anyone who used the word "swag" seriously at any point in the past few years is probably familiar with this progression.)
There are certain emojis I tend to turn to more often than others and, thanks to the "Frequently Used" section of emojis on my phone, I've discovered I'm apparently a big fan of sending people middle fingers of various skin colors in addition to the ever-reliable smiling piece of poop.
Do the emojis you rely on say anything about who you are as a person? I have no idea, which is why I asked people to send me screenshots of the ones they use the most so I could judge them.
Apologies in advance to everyone I'm about to accidentally insult.
This person is destined to become someone who sits on the same stool in the same corner of the same bar every night and strikes up conversations about love and the inevitability of death with whoever is unfortunate to sit down next to him or her.
This person's nails will also always be flawless.
This person enjoys describing things as "lit," prides him or herself on keeping things 100 and pretends to enjoy mildly amusing memes on Twitter and Instagram a lot more than he or she actually does deep down.
This person is presumably too busy keeping up with Internet culture to take the time to write out the word "OK," which is the only way to explain why he or she uses two different check marks in addition to a thumbs-up symbol to indicate his or her approval of things.
With the exception of the Latvian flag, this person may have never scrolled past the first two sections on the emoji keyboard. Someone should tell this person what he or she's missing out on.
No amount of adventure, travel and cheeseburgers can make up for this person's perpetual sadness and disappointment. That hand might say everything is OK, but I'm not so sure.
This is someone who balances a love of animals, good food and celebrations involving alcohol to create a life filled with joy and happiness, and I wish I was as cool as I assume this person is.
This person uses exclamation points more than anyone should. (If you're sensing any bitterness, it's because I wish I could be as excited about anything as this person seems to be about everything.)
This person's Irish and Italian temperament has created a joyful and loving human who occasionally punches things when frustrated.
This person frequently cooks eggplant for dinner. That's the only way to explain why the eggplant's ranked so high.
This person enjoys eggplant almost as much as the previous person does. I had no idea it was such a popular vegetable.
Continuing with the culinary theme, this person makes feta cheese for a living (and suggests pairing it with honey).