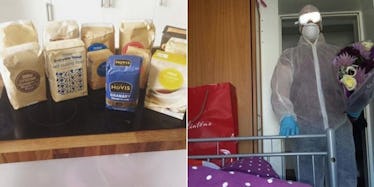 Love At Its Finest: Man Delivered A Dozen 'Flours' To His Girlfriend
In a year when everyone we looked up to got a divorce, it's nice to see love is still alive and well.
When it came time for Paige-Ellen Williams' boyfriend, Richard, to express his love, he knew giving his love a box of chocolates or some cheesy card wouldn't cut it.
No, Richard knew he needed to get her something from the heart (of a stalk of wheat).
Sending your significant other a dozen bags of flour is the new version of standing outside of a window while holding a boombox playing Peter Gabriel's "In Your Eyes."
A Tesco delivery man knocked my door yesterday morning and I sent him away telling him he had the wrong address! we've... Posted by Paige-Ellen Williams on Thursday, August 20, 2015
Get it? Flour, instead of flowers? Yeah, you get it.
In the post, Paige-Ellen explained she originally thought the Tesco delivery was a mistake, though the delivery man insisted he was in the right place.
Eventually, the joke was clarified through text message.
Tesco got in on the fun and gave its own two cents on this act of love.
According to Wales Online, this isn't the first time Richard played a weird prank on Paige-Ellen to show his devotion to her.
This is a picture of Richard wearing a hazmat suit to tend to Paige-Ellen when she was sick.
On the couple's first anniversary, he gave her this card.
For real, this duo is hardcore relationship goals. Everyone be more like them, immediately.
Citations: A Welshman got his girlfriend 12 bags of flour because romance is not dead (Mashable)