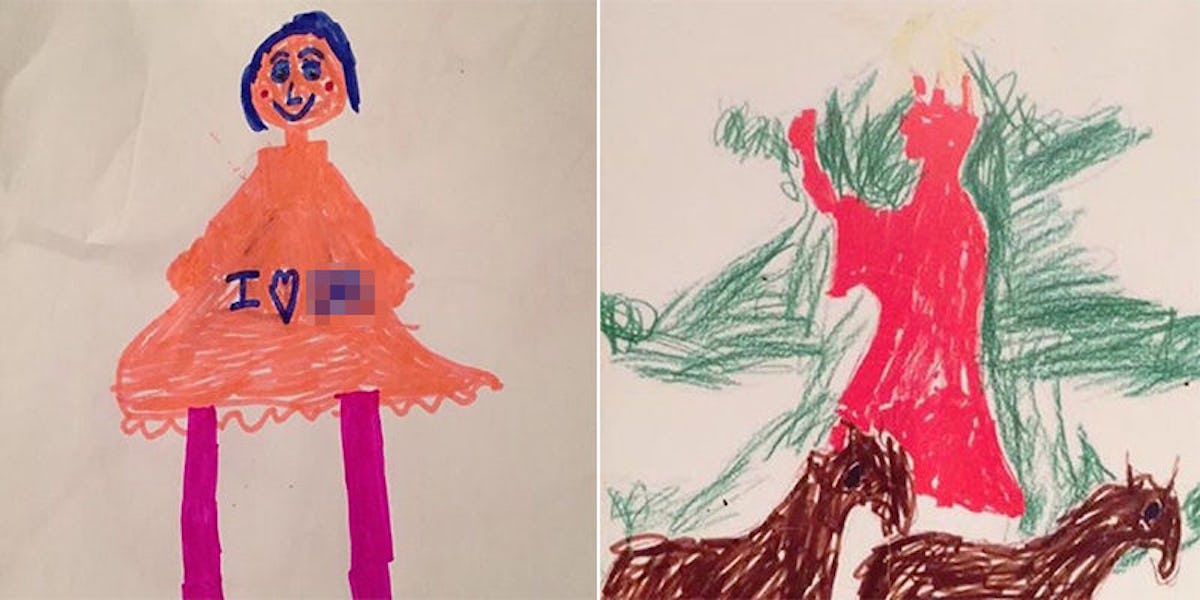 These Kids' Holiday Drawings Are So Inappropriate, And It's Hilarious (Photos)
Facebook
I don't remember Christmas being a terrifying penis jamboree growing up, but perhaps things drastically changed since the 90s.
According to drawings posted by parents on Facebook, the kids of today split their time in December between drawing Santa's no-no parts and imagining the jolly man as terrifying demons.
You know, fun Christmas stuff!
Santa got a BRAND NEW BAG (O' PENIS), baby!
Satan Claus is coming to town…for the soul of your firstborn.
Nothing says, "Merry Christmas," like an aroused, shouting leprechaun.
I'm so excited for Rainbow Santa to smash the chimney with his monster dick!
Fun Fact: Saint Nick suffers from diphallia.
Tell the elves to get their boob hats on. It's freaking cold outside.
Mom deserves some love around the holidays, too, so draw her in her favorite party dress!
Have yourself a merry little Dickmas.
Kris Kringle says, "Thanks for the undies, but they're weighing down the sleigh."
The Holiday Dalek is here to exterminate your blue Christmas (and your family…and your neighbors)!
Take a bite of Santa's candy head! Don't make it weird.
Merry Christmas to all, especially LGBTQ+ snowmen/Santa couples.
Finally, don't forget to leave a note next to Santa's cookies.
If you're feeling extra grateful, leave a handmade gift of your own for the man with the bag.
Gosh, it really just makes you wish you were a kid again.