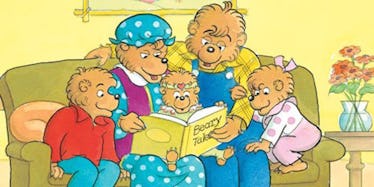 Where Are They Now? 6 Adventures The Berenstain Bears Would Go On Today
I was raised by a family of bears: four overall rocking, shower cap-donning, bad habit-busting, tree house-squatting grizzlies, who put Bear Country on the map.
You know the family. They're the Berenstain Bear family.
Unless you had the luxury of cable television, you too probably spent a good portion of your childhood reading these books at bedtime, or while you and your sister waited three hours for your Easy Bake Oven to make one f*cking brownie.
If "Sesame Street" taught me to count, Bill Nye taught me science, Oregon Trail taught me to barter and pogs taught me to gamble, then the Berenstain Bears taught me everything else I know in life.
We read all of them, and we made sure to cross-check our set with the "collect them all" page on the back cover.
Some books were unquestionably better than others.
Whatever the book, though, there were always important lessons to learn from this family of fuzzy f*ck ups.  Now, there's probably a parenting app to teach kids these lessons.
Nevertheless, I have to wonder what would ensue if the Berenstain Bear books took place in 2015.
Bear with me while I present a few "pawsible" plots and morals to be learned from a modern-day Berenstain Bear squad:
The Berenstain Bears Get Netflix
Looking for fun for the whole family tree, Papa Bear subscribed to a Netflix account for family movie nights from the kin's den.
Not before long, though, every night became movie night. "Just one more episode" turned into "just one more season."
Homework was replaced by "Homeland." Housework was swapped for "House of Cards." Papa Bear never takes off his overalls.
Mama Bear installs a water rower machine in the basement. Sister Bear opens a frozen banana stand in the treehouse. Brother Bear tries cooking blue meth in the bear den.
Mama Bear finally pulls the plug on Netflix.
Order is restored, and the Bears keep Blockbearster kiosks in business.
Lesson learned: Get on that Hulu free trial, and you'll be binge-watching "Nashville" in no time, Sister Bear.
The Berenstain Bears When Sister Bear Does EDM
Bear Country just announced a three-day electronic dance music festival, and Sister Bear couldn't be more stoked for Electronic Grizz Fest with her bestie, Molly Bear.
Papa Bear initially forbids Sister Bear from going, but by day three of his four-day Jack Daniel's Tennessee Honey hangover, he finally says, "F*ck it," just to put an end to the bass dropping from Sister's MacBook.
Hurricane Ted was a-brewin' in Bear Country, though, and storms left thousands of Grizz Fest-goers stranded in the mud without shelter or shuttles.
To teach Sister Bear a lesson, Mama Bear made her walk a mile in the rain.
Lesson learned: Three days are two days too many, and $300 is too much to pay to roll in mud and wade in water.
The Berenstain Bears And Money Trouble At Target
Bear Country just opened its first Target.
Needing to pick up a few bear necessities, the Berenstains took a trip to what they soon would learn is a retail bear trap.
Papa Bear never made it past Target café, and he spent half his paycheck and weekly caloric quota on Archer Farms personal pan pizzas and Cherry Frost Icees.
Brother Bear's allowance didn't stand a chance at the Dollar Spot.
Sister Bear's college fund went to Sonia Kashuk. Mama Bear bought out all of Mossimo's muumuus and Lily Pulitzer's shower caps.
Every Target trip, the bill went up and up, like Papa Bear's cholesterol from café nachos.
Lesson learned: Sign up for the REDcard, clip some coupons, get the Cartwheel app and get back in that black hole, bears.
Also, if the Target sale price ends in $0.08 or $0.06, the item will most likely be marked down again.
The Berenstain Bears And Too Much Texting
The Berenstain Bears enroll in a new "Bear Everything" unlimited text and data phone plan, and they get addicted.
Dinner table conversation was done via group text.
Sister Bear communicated strictly in emoji. Brother Bear got caught sexting Slutty Bear at school.
Papa Bear spent hours searching Ashley Madison.
Mama Bear was trying to tackle T9 texting. But as always, she decided enough was enough, and forfeited the family's 4Gs.
Lesson learned: Seriously, don't text at the dinner table. It's rude AF. Also, get a burner phone, Brother Bear.
The Berenstain Bears And Overbearing Papa Bear
With only so many years left to live vicariously through his son, Papa Bear signs Brother Bear up to play football and honor his Bear Bryant eponym.
Papa Bear thought a few hits to the head were less damaging than a few hits to his ego.
Even though Brother Bear was the worst cub on the team -- and had more broken tackles than a Bass Pro Shops outlet store -- Papa Bear was on every sideline, accosting every coach.
That is, until both Berenstains were banned from football when Papa Bear punched the referee.
Lesson Learned: Unless your kids' interests include ISIS or eating Paint Chips Ahoy!, let them develop their own hobbies and pursuits. Additionally, don't punch referees.
The Berenstain Bears And Mama Bear Literally Can't Even
After years of having to be the buzzkill, bad news bear while bumbling idiot Papa Bear sits idly by, Mama Bear officially ran out of f*cks to give.
She hit the Bärenjäger bottle hard. (Like, you didn't see this one coming?)
What kind of boozehound matriarch wears a shower cap and muumuu at all hours of the day?
A mother three sheets of Chardonnay to the wind, and who thought Brother Bear and Sister Bear were acceptable names for her offspring, that's who.
It's not even lunchtime, and Mama Bear has already put back a honey pot of Riesling, and she's hibernating on the couch.
Once Papa Bear runs out of clean overalls, and the Bratty Bears get tired of microwaved salmon dinners, the family decides enough is enough.
Lesson learned: Drink your wine out of a travel coffee mug (or Nalgene bottle), and no one will ever know, Mama Bear.