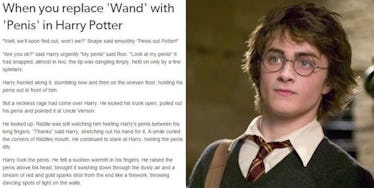 Someone Replaced 'Wand' With 'Penis' In 'Harry Potter' And It's Awesome
Tumblr/Warner Bros. Pictures
Unsurprisingly, magical X-rated Mad Libs are probably the best things on the Internet.
Remember in school when your teacher would treat the class to a lesson where you just did Mad Libs for  40 minutes and the second she would say something like,  "OK, we need a noun. Someone yell out a noun," the entire class would yell,
BIG, SLOPPY PENIS!
WE ALL DID THAT. THAT WAS ALL OF OUR CLASS EXPERIENCES.
Well, someone took that magic and threw it into the Wizarding World by simply replacing the word "wand" with the word "penis."
Yup. This is just about the funniest thing on the Internet.
It's annoying how much this is making me laugh at work.
Tumblr users replacing the word 'wand' in Harry Potter with a predictable substitute is just the best thing ever. pic.twitter.com/keVViePjcX — Aoife Wilson (@AoifeLockhart) October 19, 2015
Mischief managed.
Citations: IF YOU REPLACE THE WORD WAND WITH PENIS IN HARRY POTTER BOOKS AMAZING THINGS HAPPEN (Playboy)