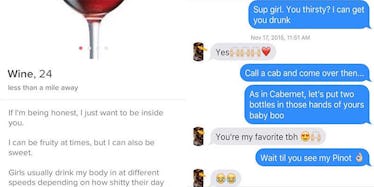 This Guy Joined Tinder As A Glass Of Wine, And Hilarity Ensued (Photos)
Remember when a woman posed as a cheeseburger named Patty and flirted with single guys on Tinder to see if the stomach really is the way to a man's heart?
Well, FoodBeast writer Sean Fahmy recently conducted a similar experiment, only this time, women were the subjects and he the desirable dater.
Fahmy wanted to see how women would respond if "hit on" by a glass of wine.
Fahmy wanted to know, would they reciprocate?
Fall in love?
Or would they simply devour their sweet, spirited suitor and leave him high and dry?
So he created a Tinder profile masquerading himself as a 24-year-old bottle of Merlot and got to work wooing the ladies.
Fahmy introduced himself as a "sweet" and "full-bodied" guy.
But the ladies quickly learned he's a real smooth talker.
Some found his wine-related puns a bit too fruity for their taste…
…and thought his bottled-up sexual energy was a little over the top.
But the bots thought he was sweet…
…and others felt he had really good taste.
He made some women drunk with desire…
…while others simply swore him off.
But even if they didn't indulge…
...no girl could resist his vintage good looks.
At times, he came on a bit too strong…
…but this glass-half-full kind of guy never stopped looking for love.
He hasn't found his perfect pairing just yet.
So he's going to keep playing the field vineyard until he meets his soulmate.
After all, romance is intoxicating.
But be warned, girls, too much, and he'll go right to your head.
Citations: A Glass Of Wine Made A Tinder Profile And The Results Are Intoxicating (FoodBeast)