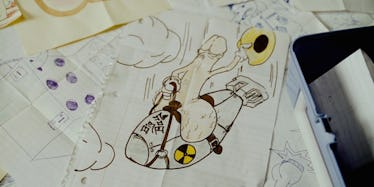 This Guy Seriously Decided To Draw D*cks All Over An Ikea Store
Columbia Pictures
A grown man is in some trouble after he drew a bunch of "penisen"-- IKEA speak for "penises"-- on products and walls throughout one of the furniture giant's retail locations.
According to the Daily Mail, the 31-year-old man from Denmark took full advantage of the store's generous free-pencil policy in order to carry out this phallic-based act of vandalism.
Before being caught, the man, who apparently has no prior convictions, calmly walked through the halls of the store, drawing genitalia on the walls and some furniture items on display, according to reports.
Eventually, the staff caught on to his pop-up art exhibit and told police.
When he was first caught, the amateur PEEN-casso did deny what he did, though police say he eventually gave up, confessed and said he regretted his actions.
He did, however, mention he didn't draw all 30 reported penises during his crime spree.
This story has a bit of a crazy ending.
Michaelan-gental-io over here -- said in the MOST New York way possible -- reportedly received a suspended 20-day prison sentence, which is insane, right?
At that rate, I would be put on probation until I was 43 if I got caught every time I drew a penis on a textbook in high school… and in college… and this one grad school class I took before dropping out.
I'm sorry. Don't arrest me.
Citations: Man arrested for drawing 30 phallic symbols on walls and displays in Danish IKEA store (Daily Mail)