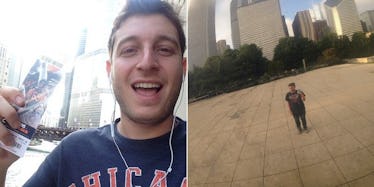 Guy Has Bachelor Party Alone After Everyone Else's Flights Got Canceled
Watching a close friend get married is bittersweet: On one hand, you're thrilled he or she found eternal happiness, but on the other hand, loneliness threatens to swallow you whole.
A bachelor party serves to ease this fear and also acts as a last hurrah where friends come together to enjoy one last wild weekend of singledom and brotherhood.
For everyone but Robbie Chernow, that is.
When he flew to Chicago to celebrate his friend's bachelor party, Chernow hardly expected the rest of the group's flights to get canceled, leaving him to celebrate alone.
Using #ChicagoForOne, Chernow detailed his journey, which this writer is calling "the saddest vacation since the Titanic," on Instagram.
Things started out on a high note. Chernow attended a Bears game to kill time.
Unfortunately, the empty seats reminded Chernow he had just himself and no one else.
Some promoters did take pity on Chernow and offered him a free fridge magnet.
Chernow captioned the pic,
This is Audrey and Nicolette. Even though I didn't sign up for the Master Card they were promoting, they still gave me a Bears schedule magnet because they felt bad and as Nicolette said 'this will look good on your mini fridge. (Beat). You seem like someone with a mini fridge'. Thanks, Audrey & Nicolette!
Loneliness really started to sink in (pun 100 percent intended) on a boat ride the 28-year-old was forced to enjoy solo.
Chernow wondered if he stood a chance of making any new friends on his trip since the ones he had were nowhere to be found.
Finally! Another human being! A kind mother took pity on the traveler and shared her wine.
Chernow shared,
This is Michelle. Her and her family sat next to me on the boat (the seats that my friends would've been occupying had they made it here). She showed genuine remorse for my situation - So much so that she gave me a mini bottle of Cabernet before telling her kids 'let's go sit somewhere else and let the sad man be alone'. Thanks, Michelle!
That small taste of companionship led Chernow to Tinder, where he hoped to find some good advice, and nothing more.
As usual, the dating app completely pulled through.
Before long, Chernow was back to riding the Loneliness Express, hopping on a water taxi with no one but Captain Ray to accompany him.
Carousels are fun with friends, but there's something especially dismal about riding one alone.
When you're living like Tom Hanks without a Wilson, eating your feelings can be a smart use of time. Just ask Chernow.
Even the woman who sold Chernow his sandwich felt the chill of his isolation.
He shared,
According to Theresa, 'these sandwiches are normally meant to be shared, but you seem sad enough to finish one by yourself'. Thanks, Theresa!
Chernow considered leaning into the idea of just-me-forever-always and eased the pain with a "personal spa day."
The complete bummer of a traveler turned to the magnificence of architecture to distract himself from the fact that he is basically a less badass version of Will Smith in "I Am Legend."
Like a soft breeze in the darkest of nights, a friend from home reminded Chernow life had not always been this dismal and started a GoFundMe to help improve his sightseeing -- sorry -- sad-seeing adventures.
The Windy City was fine and good, but Chernow considered whether or not a warmer climate would provide a slightly less miserable experience.
Even if Chernow never met up with his "friends" (if they even exist), he made memories that will last a lifetime (alone).
Donate to Chernow's GoFundMe to add a ray of sunshine to what has become the darkest Labor Day weekend in American history, and follow his saga of desolation on Instagram.