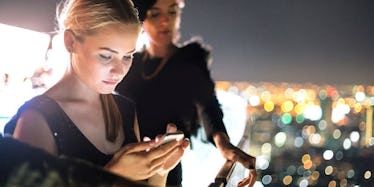 43 Thoughts Your Phone Probably Has When You Go Out And Get Drunk
If you spend your weekends doing the things television shows say 20-somethings are supposed to do, you spend the majority of your weekend nights in a bar with a close group of friends recapping the crazy hijinks from the previous week.
Even if that doesn't describe your typical Saturday night, there's a decent chance it involves you going out, spending and drinking more than you actually should and waking up the next morning without your wallet and with a lot of regrets.
A warning: If you're one of those people who actually uses the weekends to be productive instead of making irresponsible decisions, this is probably not the article for you.
Brain cells notwithstanding, there's one particular victim of nights out on the town that doesn't get enough attention: your phone. By your side the entire night (except when you can't figure out where you left it), it's basically a wingman that does the exact opposite of help you interact with other people.
If phones were self-aware (or, if you subscribe to the theory that Siri is a sentient being biding her time, already are), these are probably some of the thoughts they would have over the course of the hypothetical night below.
1. "Are you sure you want to leave the house at 43 percent?"
2. "Did you seriously just get an Uber? You're going 10 blocks."
3. "Maybe it would have made more sense to check your bank account before you got into the backseat."
4. "I see autocorrect is goings to be doing a lot of the work for us tonight."
5. "This is kind of random, but are you ever going to take care of those 10,734 unread emails?"
6. "Congratulations! You've gone seven consecutive rides without forgetting me in the car. That might be a new record."
7. "There it is: the first selfie of the night. The seal has been broken."
8."We're at 36 percent. Maybe take it easy with the flash."
9. "Speaking of broken seals: There's no reason to hold me directly over the toilet bowl unless you're hiding a jar of rice somewhere."
10. "Welcome back. That was nine consecutive trips to the bathroom without leaving me in the stall."
11. "Does the Internet really need another picture of a neon drink with a cocktail umbrella sitting on the bar?"
12. "Apparently it does."
13. "Don't you think I'm kind of close to the edge of the table?"
14. "Owwwwwwwwwww."
15. "The screen would have definitely just shattered if you hadn't broken it the exact same way three weeks ago."
16. "Just out of curiosity: Are you ever planning on fixing that or am I going to look like this until you upgrade?"
17. "We hit 20 percent a lot quicker than I thought we were going to."
18. "It might have something to do with the 27 apps you have running in the background."
19. "You've officially typed three times as many words as you've said out loud tonight."
20. "I'm also pretty sure the majority of those have been directed at the bartender or an inanimate object."
21. "OK, 15 percent. Maybe you could ask her to plug me in if you haven't met your speaking quota for the night."
22. "Owwwwwwwwwwww."
23. "Under here. Under here. Under here."
24. "Owwwwwwwwwww."
25. "I'm a prize in a claw machine and your hand is the useless hook."
26. "Don't answer this call."
27. "There's a reason you changed that person's name to 'DON'T ANSWER.'"
28. "Aaaaaaaand you answered."
29. "Oh dear. Maybe you should keep the talking to a minimum after all."
30. "You have one new Snapchat notification."
31. "You probably shouldn't have opened that in the middle of a crowded bar."
32. "I normally wouldn't endorse this, but I think I saw a charger in the background of that picture and I'm at 10 percent."
33. "I would, however, endorse taking a cab instead of using me to light up the sidewalk while you stumble toward the apartment."
33. "I would also endorse TURNING THE FLASHLIGHT OFF BEFORE PUTTING ME BACK INTO YOUR POCKET!"
34. "Thank God. We're here. Hurry up and call."
35. "How did you manage to forget your pass code?"
36. "Finally. Now just cal-- wait, are you seriously scrolling through Instagram?"
37. "WHO LOOKS AT INSTAGRAM WHEN THEIR PHONE IS AT FIVE PERCENT? YOU MIGHT BE ABLE TO GET MOTIVATED BY INSPIRATIONAL QUOTES BUT I NEED ACTUAL ENERGY!"
38. "I never thought I'd be so happy to be back inside this same apartment after... the incident."
39. "Where are you going? The only insertion that should matter right now is plugging the charger into me."
40. "How did I end up underneath the mattress?"
41. "I am the one percent."
42. "I hope you weren't planning on waking up before noon tomorrow."
43. "This. Is. Goodnight."