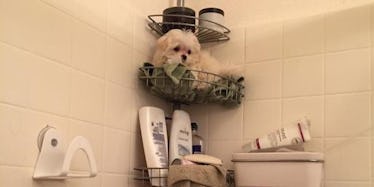 Girl Sets Up Genius System For Puppy Who Follows Her Into The Shower
Twitter
If your pet ever follows you into the bathroom, we've got the perfect hack for you -- or rather, Lysette Melendez does. 
The 16-year-old Californian was tired of her dog whining whenever she took a shower, so she decided to bring the little fluff ball in with her.
By creating a tiny puppy bed on a shelf in her shower caddy, Melendez allowed the pup, Benji, to stay by her without getting all stinky and wet.
He kept following me & I had to shower so I let him stay in the bathroom then he cried because he couldnt see me so pic.twitter.com/3HslkIPlwI — lol (@LysetteMelendez) June 9, 2015
The teen tweeted a photo of the genius contraption last night, and it's already amassed over 14,000 retweets and 22,000 favorites.
Once you get a load of the adorable puppy lounger, you'll understand why.
Speaking to BuzzFeed, Melendez joked,
I know my puppy was cute, but holy crap!
This, ladies and gentlemen, is pet parenting at its finest.
Citations: This Girl Had A Perfect Way Of Dealing With Her Dog Always Following Her Into The Shower (BuzzFeed)