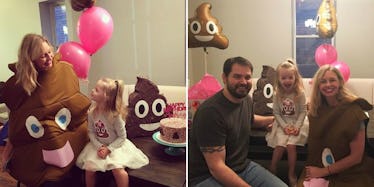 This Little Girl Asked For A Poop-Themed Birthday Party And She Was Very Obliged
Courtesy of Rebecca
One hero mom is making all of your moms look like the wicked stepmother from "Cinderella" by comparison.
A woman from St. Louis, Missouri named Rebecca repeatedly queried her then-2-year-old daughter Audrey about how she wanted to ring in her third birthday.
Audrey wanted an all-encompassing theme... the glorious theme of poop.
Rebecca told the Huffington Post,
For months, every time we mentioned her party, Audrey requested 'poop balloons and a poop cake.' I tried suggesting other themes, but she always insisted on poop.
And poop is what she got. Ask, and ye shall receive.
The party all went down at the family's St. Louis home and featured a "pin the poop" game, a poop emoji piñata filled to the poopy brim with Tootsie Rolls and Hershey's Kisses and whoopee cushions.
They even had some poop-inspired cookies, and just check out that cake!
So, was the party a big hit with the guests? Rebecca said,
I expected the grandparents to question it, but they all just laughed when I told them.
YEAH, NO SHIT BECAUSE POOP IS ALWAYS FUNNY.
Rebecca's message for all those parents working tirelessly to make their little one's birthday perfect is to let their kid have the party they want, not the one you want:
I feel like in this time of Facebook and Pinterest, we sometimes get caught up in trying to impress other adults. This party wasn't for me, it was for Audrey. I love that we will look back at pictures, and it will represent her at 3 ― my funny and quirky, little girl.
Audrey even had a poop-themed dress. I can't wait until she gets older and realizes how effing cool she was at 3 years old.
Although, I've got to say the winning costume goes to Rebecca, who really was -- and I mean this with all due appreciation -- a walking pile of poop.
BRB, I'm just making the arrangements for my birthday to have this exact party duplicated... or, dare I say, poop-licated.
Citations: This Little Girl Wanted A Poop-Themed Birthday Party, So Her Parents Threw Her One (Huffington Post)