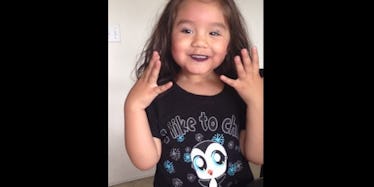 Adorable Little Girl Has A Pretty Good Excuse For Using Mom's Makeup (Video)
Most grown women struggle to contour, but this 4-year-old somehow has the makeup technique down pat.
In this video, Mia, a young makeup artist enthusiast, explains to her mom how she achieved her dramatic look and demonstrates how she created her "skinny face."
Most of the time when we watch these types of videos, the cuteness stems from how much the child chalked up her face up with lipstick, but Mia's technique was spot on.
As impressive as her tutorial is, our hearts do break a little if she thinks her cute youthful face needs any makeup.
Either this is an early case of low self-esteem or the next top makeup artist.
Judging by Mia's giddiness, we can tell this won't be her last time in Mommy's makeup purse.