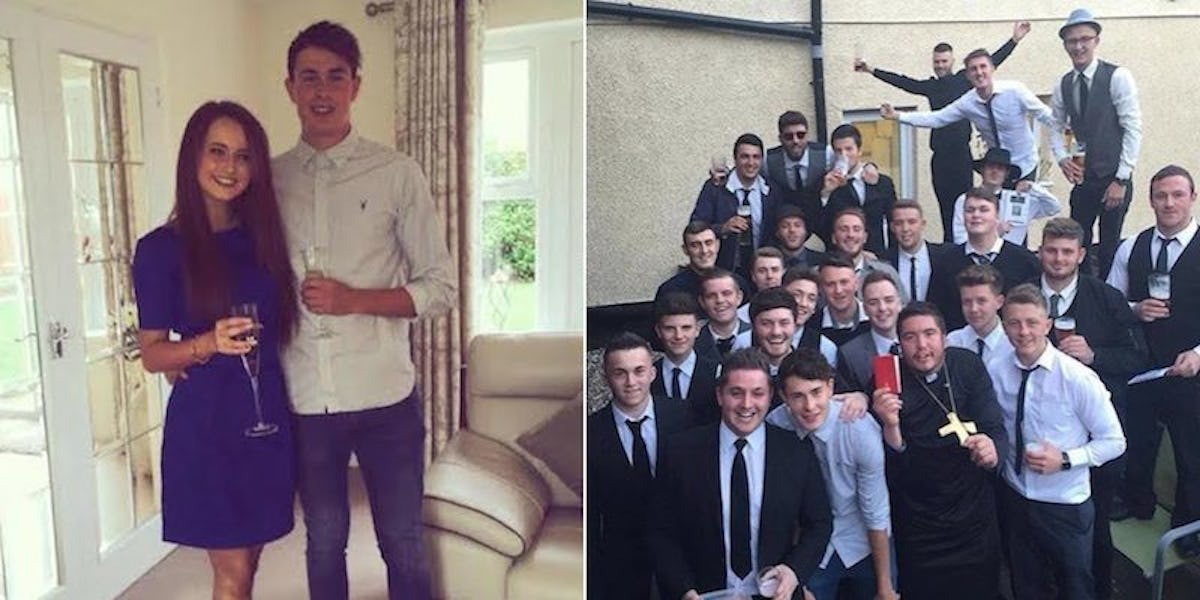 Guys Hold A Fake Funeral For Friend Who Is Always With His Girlfriend (Photos)
Courtesy of Keiran Cable
Everyone has that one friend who completely vanishes off the face of the Earth after falling in love.
It's inevitable, and there's nothing anyone can do about it. People react to finding love differently.
After meeting Jess Ferguson, 20-year-old Keiran Cable from South Wales apparently disappeared and left 50 of his friends in the past. According to Daily Mail, Cable met Ferguson, who is 19, about 18 months ago. Since then, Cable's spent all of his time with her, and his friends wanted to bring this to his attention. But how?
Instead of posting "Missing Person" flyers all over his Facebook wall, they decided to do something a bit more formal.
Hint: Don't forget to wear black!
Check out the photos below for a closer look.
Meet Jess Ferguson and Keiran Cable, a South Wales-based couple who has been together for about 18 months.
When Keiran met Jess, he simply disappeared. In fact, he was pretty much dead to his close friends.
So, what'd his friends do? Well, they held a funeral for him!
About 50 of Keiran's closest friends told him they were going to watch the Rugby World Cup.
Instead, they wore all black, rented a hearse and created a fake coffin to remember Keiran.
Keiran told Elite Daily, "I've had hundreds of friend requests. I've had people coming on to me asking can they take my picture to show their friends they've met me. It's like one big dream. It's amazing!"
Despite the funeral, Jess insists he's able to hang out with his buddies whenever he pleases.
Regardless, it seems like Keiran can't resist the urge to be by Jess' side all year round!
As for Keiran, he accepted his fate with open arms by going along with the hilarious mock funeral organized by his bros.
They even sung hymns and created a program in loving memory of their "dead" friend. Now, you know exactly how to handle the disappearance of a friend who falls deeply in love.
Citations: Friends Stage Mock Funeral - Complete With Hearse, Coffin and Hymns (Daily Mail)