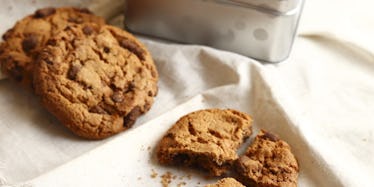 30 Totally Rational Thoughts I Had The Night I Ate My First Edible
Getty Images
Hey, guys.
It's me, your local, neighborhood gal who has never smoked weed before.
It's just, like, not my thing. I never had an interest in it growing up and now I just use it for a good "never have I ever" answer.
Also, lots of my friends who do smoke have told me, "Knowing you, you probably wouldn't like it." I don't know what that means, but I've always taken it as an insult.
The point is, you can imagine how things went for me when one hot summer's night, my boyfriend and I decided we'd split a pot cookie and just see what happens. If you can't imagine it, you're in luck because I'm about to break it down for you.
First, I think it's important for you to know in preparation I cleaned my entire apartment and picked out an outfit I felt comfortable and confident in. I don't live in a cave under the ocean, so I'd heard of the munchies before and made sure we had a big, romantic dinner earlier in the night. 
My PJs were folded on the bed for later. My phone was charged. My eyeshadow was on point. 
I obviously had this whole "getting high" thing under control, OK?
After dinner, we came back to the apartment, put on"Orange is the New Black" and cut a teeny, tiny pot brownie into two pieces and ate it.
Oh, yeah. In addition to the cookie, we also had a small, teeny, tiny brownie. (To this day, I can't recall how or why we acquired these items except it was around the Fourth of July and I have a vague memory of being at a BBQ with stoners.)
This is a true account of what happened next:
8:00 pm: Hmmm. It's been like 45 minutes and I don't feel anything. Maybe we should each have a little bit of that brownie, too?
9:30 pm: Hmmmm. It's been like an hour and a half and nothing has happened yet. Maybe we should just finish that brownie?
10:30 pm: Hmmmmmmmmmmm. It's been like three hours and maybe I'll just -- OHMYGOD. OUR BRITA IS POURING IN SLOW MOTION. IT IS BEAUTIFUL. IT IS ENDLESS. WE HAVE ENDLESS SUPPLIES OF BRITA WATER. WE ARE KINGS.
10:32 pm: OK. I have been pouring this Brita for 10 years. When I finally turn around and see my boyfriend again, he will be an old man and I need to prepare myself for that.
10:35 pm: Whew! He looks just the same. OK. I am high. Hi. I am Jamie and I am high. Hi there, I'm high. High high high.
10:45 pm: I'm over this. That's a wrap. Good work everyone, thank you for your time. Time to go back to normal.
10:46 pm: I said that is a wrap, everyone. I HATE THIS. I WANT OFF.
11:20 pm: Oh, crap. My brain is now in control of the TV and I have to explain to my boyfriend we need to rewatch this episode because my mind took over and this isn't really what happens in the plot line. Great. That'll go over well.
11:35 pm: Hey babe, we'll need to re-watch this episode because  -- wait. I'm sorry, I can't explain it right now because my arms are made out of whatever the bad guy is made out of in the movie "FernGully," but trust me it is HILARIOUS. 
11:35am-12:30 am: HAHAHAHAHAHAHA.
12:35 am: I AM A FAKE PERSON AND NOTHING IS REAL. I MISS MY FAMILY BUT IT'S SO FUNNY?!?!?!
12:40-1:05 am: Lolololololololololololol.
1:10 am: It's like, I can hear myself talking but it sounds like I am standing in a very long tunnel that's super far away. I wonder if my boyfriend can hear me. I should speak louder.
1:20 am: No, YOU'RE high!!! I'm not even yelling!
1:45 am: I am STARVING and also a claymation character. Let's go to 7-Eleven.
1:46 am: Do you ever dream you are dreaming but then you know you are dreaming? Shhh, wait. I see a cop. Be cool.
1:47 am: Lalalala, just being cool, doo doo doo, nothing to see here, you cop. Copper. Cops McGee. Helicopter.
1:50 am: It is ridiculous we came to 7-Eleven to buy Diet Coke when we have a literal, infinite, slow motion Brita at home. Why is that lady looking at me? Better just face this wall until she goes away.
2:00 am: HOW ARE WE GOING TO GET OUT OF THIS 7-ELEVEN?!
2:30 am: I am so glad walking out the front door worked.
2:35 am: Did I already ask you if you ever dream you are dreaming but then you know you are dreaming?
2:40 am: Can we please make sure we split these bags of chips? I want to make sure I eat the Hint of Lime Tostitos but I do NOT want to miss out on the Doritos. Pinky promise we can split these bags of chips?
3:15 am: OK. That is either a sweatshirt on the ground or a stationary turtle. Better kick it just in case it's alive.
3:25 am: OMG IT WAS JUST THE 7-ELEVEN BAG, HAHAHA. I WISH IT WAS A TURTLE.
3:30 am: We should go to bed and just ride this out. This is seriously awful. I hate it.
3:45 am: F*CK. Your iPhone just fell under the bed, which is basically the ocean, and now it's all wet!!! Omg. We need a bag of rice.
3:55 am: NO. I saw it. Your phone is NOT under the bed, it is in the ocean! Why do we never have rice?!?!
4:00 am: Goodnight. I am sad when I fall asleep I will turn into dust and nothing will have been real, but I've always loved you.
9:30am: ...I'm alive?
9:30 am and 30 seconds: I'M ALLIIIVVVEEEEEEE!!!!... and not hung over? Drugs are weird.