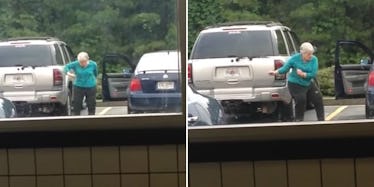 This 'Parking Lot Dancing Queen' Is All Of Us Being Awkward On The Dance Floor
YouTube
When I'm on the dance floor, I have but one goal: dancing until I get so out of breath I have to take a break and pretend I'm just tying my shoelace for 20 minutes when I'm really low-key having an asthma attack.
Well, one lady decided she absolutely needed to cut a rug in the middle of a parking lot, and her dance moves are all of us trying to dance on a Saturday night and being awkward AF.
Check out how this one woman turned a parking lot into her own private dance club... to mixed results.
Like, I understand why people are laughing in the video about her random "get low" session, but good on her to let loose whenever and wherever.
Sometimes you have to let your freak flag fly at the exact moment you want to let your freak flag fly.
For instance, I once went up to a bachelorette party at Cabo Cantina in West Hollywood and pretended I was their hired stripper for the night. I definitely let my freak flag fly very high that night.
But dancing in the middle of a parking lot? I will admit I have not reached that level of baller status. Yet.
Give me some time, everyone. I. Need. More. Time.
Speaking of time...
In the meantime, let's all take note from this rising dance star.
Not only does she seriously not give a flying eff, she's pretty damn good at getting her groove on.
So, the next time you're parking your car and feel that urge, turn up the stereo, open up your door, and shake it off.
And I mean that in the most Taylor Swift sense possible.
We can all learn a lot from "Parking Lot Dancing Queen." Long may she reign over her asphalt kingdom.
Citations: Parking lot dancing queen completely breaks it down (Mashable)