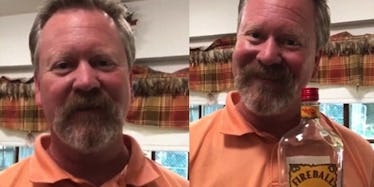 Dad Perfectly Responds To Finding Alcohol In His 16-Year-Old's Sock Drawer
Twitter
Let's face it, one of the toughest things about being a badass teenager is coming up with genius ways to hide alcohol.
Whether you're attempting to hide a bottle of vodka in your backpack so you don't look like a total leech when you show up to your buddy's house party, or you're simply looking to share a bottle of wine with your significant other, we've all been there at some point in our lives.
That's exactly why having sympathy for this particular Texas teen shouldn't be too hard.
According to Daily Mail, a Texas dad found a bottle of Fireball whiskey in his 16-year-old daughter's sock drawer and people are going nuts. Now, this surprisingly calm dad didn't lose his composure like most people might have expected him to. Instead, he found the perfect way to react to finding the "fire-breathing dragon" of whiskies in his daughter's drawer.
The dad of the summer sent his daughter a video letting her know he found the bottle and wanted to have a conversation about it when she got home from her trip to South Padre Island in Texas.
He said,
We heard a news report of people breaking into houses and hiding whiskey bottles. So if that's the case, then we need to contact police. But if you've got another explanation maybe you can explain it to us when you get home.
The video, which was originally sent to his daughter, Elainey, was uploaded to Twitter by the Fireball smuggler herself. Since then, the tweet has racked up over 9,000 retweets and 20,000 likes. Hey, hiding whiskey in your parent's house when you're 16 years old is risky business... But people go viral for worse reasons!
Ah, Internet, what are we ever going to do with you...
Check out the hilarious video above for a closer look.
Citations: Texas dad makes hilarious video message for his 16-year-old daughter after finding Fireball Whiskey bottle hidden in her sock drawer (Daily Mail)