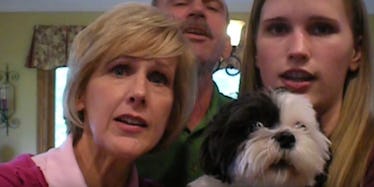 This Dog Can Sing 'Happy Birthday,' And It's The Cutest Thing Ever
OK, everyone in this video who isn't a dog, you can stop trying. We all know who the STAR of this YouTube clip is.
Think of this family as the 98 Degrees of family singing groups. The dog is CLEARLY the Nick Lachey of the quartet.
Why? Can you name anyone else from 98 Degrees? No, you can't. Nobody else was as talented as Nick was, and if you do remember anyone else, it's Drew Lachey, and the only reason you remember him is because he has the same last name as Nick.
Everyone else in this video is just there to fill out the vocal arrangements.
GET THIS PUPPY A CONTRACT AND A REALITY SHOW ABOUT HIS MARRIAGE TO THE DOG VERSION OF JESSICA SIMPSON!
Citations: Dog spices up 'Happy Birthday' song with a few sick harmonies (Mashable)