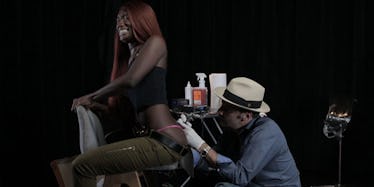 People Play Tattoo Roulette And Receive Ridiculously Awful Tattoos (Video)
Remember the Plinko game on "The Price Is Right"? At Elite Daily, we took it a whole new level.
Introducing Tattoo Plinko.
We enlisted one of the most highly credible tattoo artists in the game, Mr. Kaves from Brooklyn Made Tattoo, to give some thrill-seeking New York City residents some crazy tattoos designed by Elite Daily.
Step 1: Drop the puck in the Plinko board to determine your tattoo, with options ranging from the "Home Improvement" logo to a beautiful portrait of Donald Trump's toupee.
Step 2: Drop the puck in the board to determine the placement of your tattoo. Butt, face, tramp stamp... There's no backing out now!
Move over, Bob Barker. Tattoo Plinko is about to be the next big craze.
For more Elite Daily original videos, subscribe to the official Elite Daily YouTube Channel and like the Elite Daily Video Page.