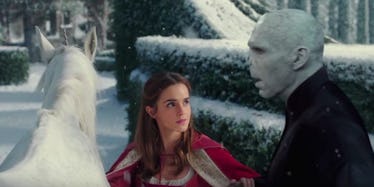 Hermione And Voldemort Romance In 'Beauty And The Beast'-'Harry Potter' Mashup
YouTube
Tale as old as time, song as old as rhyme, Beauty and He Who Must Not Be Named?
Normally, I'd say you'd have to be a Death Eater to even contemplate Hermione Granger and Lord Voldemort getting together, but this magical "Beauty and the Beast" and "Harry Potter" mashup makes this odd romance almost make sense.
The fake trailer hits on some similarities between the Beast and You Know Who.
Both are orphans, for instance.
Of course, when Maurice shows up in this mashup, Voldy does not hesitate to use the Killing Curse. GET OUT OF THERE, MAURICE!
When Belle... uh, I mean, Hermione shines some light on the B-... I mean, Voldemort, she's understandably terrified.
Of course, Voldemort really has to work on his "smile" with the rest of his anthropomorphic household appliances.
He also might try perfecting a laugh that isn't so sinister. Just a thought, Voldemort.
Voldemort staring into the magical mirror at Hermione is just... wrong.
Maybe the mirror is a horcrux.
Are these birds under the Imperius curse? I don't think any animal would enjoy the Dark Lord's company, except for maybe his snake Nagini.
Also, can we get Voldemort some Aveeno hand moisturizer? He's basically me every damn winter.
Speaking of Nagini, here she is walking Hermione to the rose. Best friends forever!
Honestly, this makes me wish Nagini and Hermione were contestants on "The Bachelor."
Can you imagine if Hermione was taken to the Yule Ball... by Lord Voldemort?
That'd make Ron really jealous. And scared.
"Gaston, the boy who is roughly the size of a barn, come to die..."
Overall, this mashup done by Pistol Shrimps is masterfully edited.
And if Voldemort and Hermione can find love in 2017, there's hope for all of us Muggles, too.
Citations: Hermione Falls In Love With Voldemort In Dark 'Beauty And The Beast' Mashup (Huffington Post)