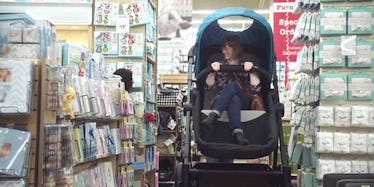 Genius Company Creates An Epic Adult-Sized Stroller For Parents To Test Ride
Daily Mail
If you've reached the point in life where your Facebook feed has become a steady stream of pictures of babies you can't tell apart, you've likely seen plenty of proof of just how far some new parents are willing to go to make sure they're doing everything they can for their children.
There's obviously nothing wrong with wanting to make sure your baby is safe and comfortable, but in my experience, there's something about having a kid that makes a lot of people go to fairly crazy lengths to make sure they're parenting the "right" way.
Thanks to the help of the Chicago-based company Contours, one of those "lengths" now includes climbing inside an adult-sized replica of a baby stroller to ensure it provides the lumbar support your child requires.
Contours recently took advantage of parents' inherent need to care a little too much about the comfort of their kids when it commissioned a 7-and-a-half-foot tall replica of its Bliss model and allowed prospective customers to take a short test ride to decide whether or not it's suitable for their offspring.
Now all we have to do is add a motor to one of these and we can take the first big step toward the glorious future we were promised in "WALL-E."
Citations: You big baby! Stroller company makes a giant pram for ADULTS so parents can road-test the buggies on behalf of their babies (Daily Mail)