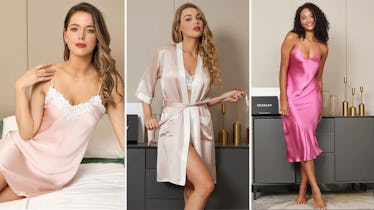 These Sexy Pajamas Are Perfect For Summer — And Styles Are Up To 79% Off Now
Wrap yourself in silky luxury.
We may receive a portion of sales if you purchase a product through a link in this article.
Nothing makes you feel more put together than a matching pajama set, even more so if it's made from silk. And a sultry silk slip dress or robe? Can anything make you feel more instantly posh? If you're looking to elevate your lounge or sleepwear experience with some super comfy yet chic pajamas, then you'll love SilkSilky's luxurious silk options. Made from 100% premium mulberry silk, SilkSilky strives to make high-quality silk affordable and accessible, especially now since the brand is offering up to 79% off during its summer sale.
From lace-trimmed nighties to button-down sets and classic robes, to chic pillowcases and hair accessories, SilkSilky has stunning silk offerings all hugely marked down right now — and all made from real silk. These sexy, breathable pieces are rarely this affordable, so don't sleep on these deals.
More About Mulberry Silk
Silk in general has an opulent feel, but mulberry silk is considered the finest, softest silk out there — with sleek, strong, and airy threads that pamper whatever it touches (and it's eco-friendly, too). What's more, in addition to being incredibly stylish, silk has tons of benefits that contribute to a good night's rest. Cool to the touch, silk helps to regulate your body temperature making it the perfect fabric for hot summer nights or sweaty sleepers. Since it's made from natural fibers, silk is also lightweight and breathable, which helps promote airflow and prevent moisture buildup. The smooth texture also helps reduce friction and irritation, perfect for those with sensitive skin.
And, since mulberry silk is produced by silkworms who only eat protein-rich mulberry leaves, the threads are packed with amino acids and proteins thought to nourish hair and skin.
Shop The Summer Sale
SilkSilky has styles on sale that amp up the volume, deliver casual comfort, and make sleep all the more luxurious. Cheeky options for couples are available, too.
1. A Short & Slinky Slip With Stunning Lace Trim
Everyone needs a mini-length slip in their sleepwear drawer, and this pure mulberry silk nightgown also happens to absolutely beautiful. Featuring a subtle lettuce hem, the V-shaped neckline on this piece is embellished with floral lace. Plus, the straps are adjustable so you can create a perfect fit.
Sizes: S — XL | Colors: 4
2. This Luxurious Pillowcase That Pampers Hair & Skin
Incorporating silk into your bedwear is a simple yet profound nightly indulgence. This envelope-closure pillowcase, made of luxe mulberry silk, is glossy and smooth, providing less friction than traditional cotton. This is thought to benefit hair (see ya, bedhead!) and treat skin with the delicacy it deserves.
Sizes: Toddler — King | Colors: 20
3. A Breezy Camisole Paired With Fluttery Shorts
If you're looking to stay cool all through the night, then you need this pure mulberry silk pajama set. It has the reviews to back it up, with one happy customer writing, "I am a hot sleeper, and this nightwear stays cool to keep me comfortable." It has a flowy V-neck cami with adjustable spaghetti straps and fluttery shorts with an elastic waistband.
Sizes: XS — XL | Colors: 11
4. A Set Of Chic, Hair-Protecting Scrunchies That Are 72% Off
Wear a little luxury on the go with this set of pretty scrunchies made of sleek mulberry silk. Suitable for all hair types, the silky smooth material is ultra gentle on hair and helps eliminate the kinks and dents typical hair ties can leave behind. They come in subtle neutrals, pastels, and jewel tones that complement any outfit of the day.
One size | Colors: 23
5. A Barely-There Slip Nightie That's Now Under $50
The ultimate choice for cool sleeping — or heating up the night — this simple slip nightie is as good as it gets. Made of sleek and soft mulberry silk, a reviewer describes this little number as "[light] comfortable, pretty, and soft to touch." It's one piece that's poised to become an essential and elegant part of your nighttime routine.
Sizes: XS — XXL | Colors: 8
6. This Midi-Length Slip You Can Wear In & Out Of The Bedroom
This pure mulberry silk midi-length slip dress is almost too pretty to be a pajama, with one reviewer calling it their "movie star nighty." Silky soft and oh-so comfy, this nightgown has a subtle scoop neck and barely-there spaghetti straps that can be adjusted. It's so chic that you can even wear it out, paired with some slinky heels and dainty jewelry.
Sizes: XS — XL | Colors: 10
7. A Button-Down Pajama Set With Luxe Details
This two-piece set is an upscale take on a classic silhouette. It's made from pure mulberry silk that one reviewer called "[the] softest fabric I have ever encountered." Consisting of a button-down top with a chic collar and matching shorts with a stretchy, elastic waistband, you're on your way to having the best sleep ever. This pajama has pretty contrast piping and a handy chest pocket for a chic finish.
Sizes: XS — XXL | Colors: 11
8. A Cottagecore-Inspired Mini Dress
This short little nightie is giving major cottagecore vibes, making it the perfect sleek, mulberry silk loungewear to cruise through the summer. The drawstring neckline, which you can tie to your liking, has a tiny keyhole cutout and can be worn off the shoulder. There's also subtle floral embroidery on the bodice to add to the delicate feel.
Sizes: S — L | Colors: 4
9. This Fabulous Belted Robe With Pockets
A good silk robe is perhaps one of the most fabulous pieces a person can own, and this one, made of luxurious mulberry silk, is no different. The light pink and cream color combination channels timeless elegance. A matching silk belt secures the robe in place and you can carry around small items in the two pockets. Wear this at your vanity while you glam, after the shower, or while sipping tea at the end of a long day.
Sizes: S — XL | Colors: 1
10. This Matching Set With A Relaxed Fit
If you typically sleep in oversize T-shirts, then you'll love this matching set from SilkSilky that's crafted from luxe mulberry silk. The crewneck top with short sleeves has a relaxed fit and cute pocket detail. The fluttery shorts have a stretch waistband and a split hem that adds an extra bit of pizzazz.
Sizes: S — XL | Colors: 3
11. This Long-Sleeve Set With A Classic Design
This two-piece PJ set feels at once Old-Hollywood and perfectly modern thanks to the pajamas as outerwear trend. This Mulberry set features a long-sleeve button-down and matching ankle-length pants with a stretchy waistband for those who like to feel extra cozy. Both pieces have contrast piping that adds an extra touch of elegance. One reviewer raved, "The workmanship on these pajamas is impeccable."
Sizes: S — XXL | Colors: 11
Studies referenced:
Hung MH, Sartika D, Chang SJ, Chen SJ, Wang CC, Hung YJ, Cherng JH, Chiu YK. Influence of silk clothing therapy in patients with atopic dermatitis. Dermatol Reports, https://www.ncbi.nlm.nih.gov/pmc/articles/PMC7137929/
This article was originally published on