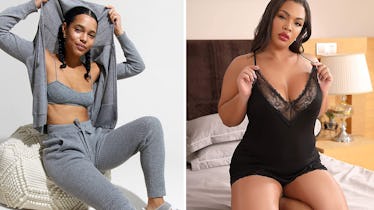 14 Sexy Loungewear & Lounge Sets For Women
You'll look and feel amazing in these super-soft 'fits.
Amazon
We may receive a portion of sales if you purchase a product through a link in this article.
I've learned that sexiness depends less upon someone else's expectations and more on what makes me feel sexy. And what better way to tune into your own particular brand of sensuality than relaxing in sexy loungewear and lounge sets for women? Whether you choose to reveal skin or revel in a luxurious fabric, lounging in a sumptuous set can be the ultimate act self love.
When you're shopping for sexy loungewear, it's essential to be an active participant in defining what sexy means for you. Is there a particular body part you want to celebrate? There are cute pajama shorts to highlight your bum, or plunging necklines if you adore your cleavage. And if you feel sexier when concealing rather than revealing, consider classic silhouettes made with sultry materials like satin, silk, or cheeky mesh, or details like peek-a-boo cutouts.
Think, as well, about how and where you'll be wearing your loungewear. If you're planning to chill and run errands today, a pair of cashmere joggers or a cute exercise set will have you out the door — then back on the couch — without missing a beat. If you're planning on wearing your loungewear to bed, pick up a sexy pajama set (you can't go wrong with some classic silky pajamas) that can double as a chic outfit if the mood strikes to step out for dinner.
Whatever your mood, these sexy loungewear and lounge sets for women are ready for you to snap up, put on, and — maybe — take off.
This article was originally published on