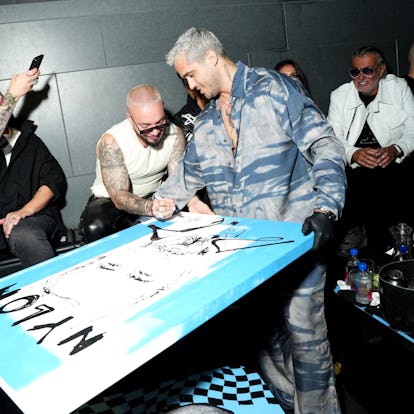 I Went to My First Fashion Week Party & Saw My Fave Celebs
An inside look at the free swag, fun activities, and star sightings 🤩
New York Fashion Week isn't all about runways and presentations; it's also about the partiesss. To celebrate fashion's biggest events of the season and the fact that every celeb and influencer has flocked to NYC, many brands and designers throw legendary bashes with *major* star power. Elite Daily's sister site NYLON is no exception. On Wednesday, Sept. 6, the magazine threw one of its signature NYLON Nights events, and I was there — at my first-ever fashion week party — to soak it all up (and break it all down for you).
Though this is my second time taking part in NYFW, I had never been to a fashion week social event before. And, let me tell you, it lived up to the hype. The party atmosphere, the swag, the interactive experiences, plus the seemingly never-ending celeb guest list all had me shook in the best way possible. Here's the tea:
The NYLON Nights party, which took place at Nebula nightclub located near Times Square, was hosted by J Balvin, who served as the magazine's July 2023 digital cover star. The event began promptly at 10 p.m. and went into the wee hours of the morning at 2 a.m., giving everyone an ample amount of time to dance the night away à la Dua Lipa with the three DJs of the night: Miss Monique, Mia Moretti, and Isabella Massenet. The trio of women definitely kept the good vibes going with their disco/techno-style beats.
As expected, the event had no shortage of famous faves and social media stars. In attendance were heavy hitters like Oscar-winning Ariana Debose, Avril Lavigne, The Carrie Diaries' AnnaSophia Robb, Riverdale's Ashleigh Murray, Euphoria's Lukas Gage, Liza Koshy, and Outer Banks stars Chase Stokes and Carlacia Grant. TikTok stars like Vienna Skye, Markell Washington, Tinx, Josh Richards, and Davis Burleson were also in attendance.
Ariana DeBose at NYLON Nights

Gilbert Flores/WWD/Getty Images
Ashleigh Murray at NYLON Nights

Gilbert Flores/WWD via Getty Images
Avril Lavigne at NYLON Nights

Jared Siskin/Getty Images Entertainment/Getty Images
Chase Stokes and Carlacia Grant at NYLON Nights

Jared Siskin/Getty Images for NYLON
The swag was equally impressive. Immediately, when you walked through the door, you were met with a stand full of Quay sunglasses, one of NYLON's partners for the event, and given a pair of sunnies based on the team's suggestion, plus a cute crossbody sunglasses case to carry them with you throughout the night. I was given the new Vice Versa Quay glasses ($95), a black cat-eye shape with a white lining that makes them pop. Catch me in these frames every time I go out because I felt chic AF strutting around the party in these specs.
Quay also offered aura readings and pics based on your choice of sunglasses. The white cat-eye style gave my aura reader hints on my relationship status and tips on my future career. My aura was pink with "Love is my dopamine" as my departing message.
The upper level held another fun activation. NYLON collabed with Sephora for a fun hair experience, where partygoers could sit down with a stylist and receive one of a number of different styles — a braid, tossed waves, an intricate updo, the works. This was followed by a fun photo op to capture your new 'do.
For those who aren't used to being up late and tend to get a little sleepy (it's me, hi), NYLON's partnership with Celsius came in clutch. The brand provided a bucket of energy drinks at every table, so you could grab a boost of energy for the night if you felt yourself fading.
TL;DR, my first fashion week party was a major success. It was an unforgettable night filled with celeb sightings and unique experiences to kick off the season. I don't know how any other event could top NYLON Nights, but I can't wait to see what the rest of the week has in store.