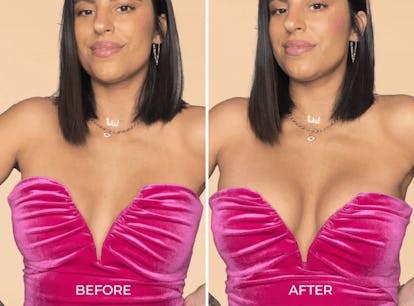 TikTok Is Obsessed With This Genius Bra Hack
Nueboo's volume-boosting inserts are an internet fave and can add up to two cup sizes.
We may receive a portion of sales if you purchase a product through a link in this article.
Ranging from nipple covers to adhesive lifting bras, Nueboo has boob solutions for every outfit and occasion. However, the brand is probably best known for its adhesive bra inserts, which went viral on TikTok thanks to Nicole DeLosReyes. Her tutorials on using Nueboo's Instant Volume Sticky Inserts have garnered an impressive 7 million views and counting.
A cross between a push-up bra and a nipple cover, Nueboo's viral inserts provide extra lift and support to enhance your natural cleavage, all while staying discreetly hidden beneath your clothes. Apart from being sweat- and water-resistant, these inserts are also reusable and can be worn over 40 times.
Nicole DeLosReyes went from a B-cup to a D in seconds and millions of TikTokers went along for the ride. Shop the internet-stanned volume-boosting inserts along with Nueboo's other clever boob solutions below.
What Fans Are Saying
From turned-up TikTok comments to rave reviews on Nueboo's site, the verdicts are in:
"Never bought something so quick lmaoo" — Tori
"I have been influenced. These will be perfect for my concert outfit." — JADA
"Worked as advertised. Stayed in places for several hours and turned the headlights into high-beams." — William M.
"Loved the boost, confidence and bust" — Nicole H.
Using The Internet-Fave Inserts
Beyond the TikTok hype, Nueboo's Sticky Inserts are super easy to use and can lead to an eye-popping payoff. First, make sure you opt for fitted or structured tops as they'll give you the best results. Then remove the film on the outside of the insert and stick to the inside of your top with the padded part facing your underboob. Remove the film on the inside and pull your top up while adjusting your boobs into place. Voilà.
Shop All Of Nueboo's Boob Solutions
Below, you'll find even more of Nueboo's much-loved, no-bra-needed solutions, from nipple covers of multiple varieties and supportive boob tape, to lifting adhesive bras and even a clay mask designed to pamper and plump that bust.
1. These Teardrop-Shaped Nipple Covers
Sometimes all you need is a simple way to conceal your nipples. That's where these covers come in. They are invisible beneath your clothes and they have the reviews to prove it, with one reviewer writing that you "[cannot] see them under anything I wear." That reviewer also raved, "I've tried many different brands [...] and these are by far the best!!" Plus, each pack comes with 5 pairs so you can always have some on deck when you need them.
Sizes: One Size | Colors: 2
2. Some Reusable Nipple Covers Made From Silicone
For some added coverage (and shape) that you can wear time and time again, look no further than these nipple covers. Made from matte silicone, these covers have tapered edges to mold to the shape of your boob while remaining undetectable under any garment. Even better, these wardrobe workhorses are reusable — simply wash, dry, and save them for next time.
Sizes: One Size | Colors: 4
3. A Roll Of Boob Tape You Can Wear So Many Ways
The great thing about boob tape is that it's super versatile and can be worn so many different ways depending on your outfit. For starters, you can measure and cut the tape to your liking so that it fits your needs perfectly. It can also be placed in any position, whether that's across the bust to bring your cleavage together or over your shoulders for lift — you can even use it with swimwear. The tape is waterproof and can be worn for up to 8 hours, and it's made to work with all bust sizes from A-G cups. One reviewer shared, "This tape worked extremely well [...] my boobs stayed in place the whole night."
Sizes: One Size | Colors: 3
4. A 3-Pack Of Adhesive Bras That Provide Subtle Lift
If you still want some lift without the padding, then you'll love this pair of adhesive bras that come in a convenient pack of three. The unique shape allows you to pull the them up towards your shoulder or collar bone for a subtle lift, all while keeping your nipples covered. Since they're sweatproof, these adhesive bras stay put for up to 8 hours. One reviewer remarked, "These adhered easily and lasted my entire wedding day and night for my 36D chest."
Sizes: S (A-B cup) — L (DD+ cup) | Colors: 3
5. This Complete Kit For All Your Boob Needs
Including three pairs of the Easy Lift Adhesive Bra, five pairs of Nip Covers, and a full roll of body tape, this collection has it all. The items are made from a breathable cotton blend backed by medical-grade adhesive, and the goal is to make it feel like your breasts are floating — all backlessly and without the need for underwires.
6. This Pampering Clay Mask Enriched With Superfoods
Designed to brighten and tighten skin, reduce sweat or acne irritation, and moisturize and soothe dry skin and nipples, this boob mask is a unique way to treat yourself. Packed with lush ingredients like aloe vera juice, jojoba seed oil, and extracts of acai, pomegranate, and coconut, the formula is vegan and noncomedogenic. Simply brush on after cleansing — making sure to get under your boobs if rashes from boob sweat is an issue. Leave it on for 10 minutes, then rinse off and bask in your oh-so-well-treated bosom.
One reviewer raved, "This mask is magical! After [...] using this mask for a little over a week I started noticing the change [in] size and perkiness. The girls look incredible and I have been enjoying not wearing a bra again."
This article was originally published on