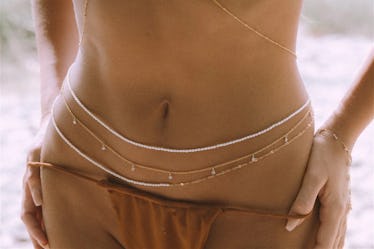 Heading To Coachella This Summer? You're Going To See This Celebrity-Loved Body Jewelry Everywhere
It's time to retire the flower crowns.
Naiia
We may receive a portion of sales if you purchase a product through a link in this article.
Festival season is fast approaching, so it's time to start arranging your outfit mood board. This season, though, a new, unexpected accessory is reigning supreme over previous seasons' ubiquitous flower crowns: Belly chains. (Body jewelry has been seen on celebrities from Hailey Bieber to Kim Kardashian, so you know the trend is going to be big.) If you don't happen to have a robust collection of body jewelry at the ready, check out boutique jewelry brand NAiiA, whose festival-ready pieces were spotted on Instagram darlings Natalie Noel and Nikki Khannaa at Coachella last year.
NAiiA creates a range of on-trend jewelry, but their belly chains are the headliners in the lineup — incredibly versatile, they can be worn as a choker, bracelet, anklet, or necklace, depending on how you wrap it. They've got a gorgeous selection of other body jewelry too, from body chains to hand chains to toe rings. All the brand's jewelry is handmade in Los Angeles using 14-karat gold fill and/or 925 sterling silver, which adheres to their quality standards while keeping the cost reasonable. Their pieces are also water- and tarnish-resistant, so pool parties are highly encouraged.
Shop Festival-Ready Jewelry
NAiiA's new line, Fame, dropped just in time for the summer festival circuit; filled with pieces ranging from delicate to bold, with chunky strands of pearls and dangling gemstones, these glam, Old Hollywood-inspired pieces are sure to maximize your festivities. When in doubt, you can also shop their Festival Shop, which surfaces some of the brand's coolest body jewelry and other show-stopping pieces curated specifically for the festival circuit.
Shop some of NAiiA's best and brightest pieces from both collections below.
A Belly Chain With Dangling Delicate Gemstones
The Vivien Belly Chain can be worn in several ways, but what makes this one special is its 14-karat gold-filled chain studded with tiny dangling cubic zirconia. Light-catching and eye-catching, this chain gives belly dancer in all the best ways. In the picture above, the model wears the Vivien with the Jayne Belly Chain, a double strand of freshwater pearls that proves pearls can be anything but stuffy.
A Belly Chain Studded With Tiny Gemstones
Tiny bezeled lime, aquamarine, and garnet cubic zirconia stud this belly chain for a delicate hint of color that'll seamlessly blend into so many different looks. Like all of NAiiA's belly chains, this one can be worn several ways, depending on what best suits your outfit. If you're only looking to buy one piece this festival season, this makes for an excellent choice.
A Chunky Turquoise Choker
Whether you're just getting in on the choker trend or you're looking for a new piece to wear to Outsidelands, this chunky piece adds the perfect pop of color. Blend the triangular turquoise stones with other colorful pieces, or let it be your outfit's statement-maker.
The Turquoise Bra Chain You Never Know You Needed
You might not think of a turquoise bra chain as versatile, but there are actually so many ways you can wear this special piece — try it over a bikini top (perfect for festivals), under a sheer tank top, over a T-shirt, or layered with other necklaces. The vibrant turquoise stones are surprisingly wearable, thanks to the delicacy of the 14-karat gold-filled chain. You'll reach for this chain way more than you think.
This Unique Hand Chain For A Hint Of Glimmer
What's cooler than a bracelet? A hand chain. Pulled from the Festival Shop, the Ariella is 14-karat gold-filled and studded with bezeled cubic zirconia gemstones for a hint of glimmer and texture. Let it take center stage as a solo act, or layer it up with other rings and bracelets in your collection.
This Mixed Metal Double-Chain Choker That's So Rock N' Roll
This mixed-metal double chain is so rocker-chic; it features mixed sterling silver and 14-karat gold-filled loop chains in staggered lengths, so the layering is done for you. The chain adjusts from 15 to 18 inches for added customization. Try it with one of their delicate body chains for a bit of textural contrast, or mix in some pearls — or why not both? Festival season is for experimentation.
This Cuban Link Anklet You'll Wear With Everything
Why should your upper body get all the jewelry love? This 14-karat gold-filled Cuban link anklet adds an extra dimension of texture and glow to your jewelry ensemble, and it'll look gorgeous peeking above your sandals or sneakers (or, better yet, barefoot). You'll find yourself wearing it long after Coachella has taken down their tents.
This Best-Selling Pearl Belly Chain
One of the brand's best-sellers, the Chloe Belly Chain features a single strand of tiny, irregularly shaped freshwater pearls, the epitome of relaxed, modern cool. The adjustable chain can also be worn as a necklace, so you can create so many looks with this single piece. Try layering it with other belly chains (and maybe even a bra chain) for a look that's truly festival-ready.
A Statement-Making Gold Double Body Chain
Festival season is all about making bold sartorial choices, and the Ava Body Chain makes such a stunning statement. Featuring a 14-karat gold-filled double body chain that extends to a necklace, and accentuated by tiny, dangling cubic zirconia, this one-and-done accessory requires no accompaniment — but it would look marvelous alongside other chains, bracelets, and rings for a little textural contrast.
An Elegant Toe Ring That Looks Even Better In Multiples
Shown here on the model's ring toe, the Dani Toe Ring is another unexpected way to switch up your usual necklace/earrings/bracelet lineup — and it comes in sizes ranging from 2 to 7, so it'll fit on pretty much any toe you want. It'll look even more elegant stacked and layered with the brand's other toe rings in varying widths, like the thinner Adriane Toe Ring shown on the model's middle toe. At just $25 a pop, why not get them both?