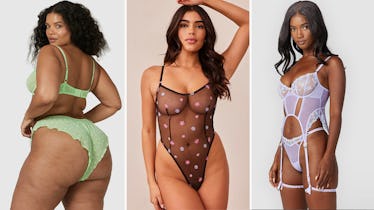 Lounge Lingerie Just Dropped The Prettiest Curation For Spring — & Most Styles Are On Sale
Spring clean your top drawer.
We may receive a portion of sales if you purchase a product through a link in this article.
Few things are more rewarding than refreshed underwear drawer, and Lounge, a boutique lingerie brand, rolled out a gorgeous curation of spring-ready styles just in time for you to welcome in some underthing updates. Perfect for celebrating the warmer weather, Lounge's spring curation is filled with sweet pastels and vibrant candy colors, and delicate floral details mixed with sheer mesh and lace — and most of the pieces in this curation are on sale right now for up to 50% off. The brand is also running a birthday sale for up to 60% off through March 31, so now is an amazing time to treat yourself to some special new pieces.
Every piece in the curation is aligned with the brand's ethos that comfort can be synonymous with sexy, so even the most intricate of their designs feel deliciously soft and stretchy against your skin. And because they know that finding your proper bra size can be a #struggle, Lounge offers a super-simple (and even fun) interactive tool, called The Fitting Room, to help you find your best fit; so even if you've never worn Lounge's pieces before, you can feel confident that it'll fit you to a T.
Shop Fresh Lingerie Styles For Spring
Below, discover a selection of stunning pieces that would be an excellent addition to any underwear wardrobe. You'll find sweet-meets-sexy bodysuits, minimalist wireless bra and thong sets, and even lingerie sets complete with garter belts for those days when you're feeling a little extra.
A Sweet & Sexy Lavender Lingerie Set
Why choose between spicy and sweet when this lingerie set can do both? Lavender floral embroidery and bows combine with daring cutouts and polka dot mesh to devastating effect. This two-piece stunner features a thong bottom and an underwire top with structured boning, plus a garter with adjustable leg straps. Don't save it for a special occasion — this set was meant to be loved.
Sizes: Bra: XS — XXL; Thong & Garter Belt: XS — XXL | Colors: 1 | Material: 68% Recycled Polyester, 29% Polyester, 3% Elastane
This Floral Balconette Bra & Thong Set In Springy Pastel Blue
The delicate blue lace of this underwire balconette bra and thong set is punctuated by mesh polka dots and stretch floral embroidery for a fresh springtime look, but it's so gorgeous and cheerful you'll reach for it long after the season ends. One shopper raved, "This set makes me feel so confident and it's so comfortable to wear." This robin's egg blue shade is particularly beautiful for spring.
Sizes: Bra: 30A — 38G; Thong: XS — XXL | Styles: 4 | Material: 50% Polyester, 45% Recycled Polyester, 5% Elastane
This 3-Piece Bra & Panty Set That Comes With The Cutest Fluttery Shorts
All you need to feel adorable in one comfy set, the Maisie Intimates set comes with an underwire bra, a delicate G-string, and the cutest high-waisted shorts with a fluttery, high-cut hemline, all in this springy pastel mint and rendered in sweet floral mesh. Mix and match to your heart's content.
Sizes: Bra: 30A — 38G; Thong & Garter Belt: XS — XXL | Styles: 4 | Material: 90% Recycled Polyamide, 10% Elastane
A Floral Mesh Bralette & Thong Set You'll Reach For Daily
No need to sacrifice cuteness for comfort with this lingerie set; the floral printed mesh is the very definition of pretty, but the athletic-inspired pullover bralette and high, wide waist-banded thong make this set functional enough to wear daily. Grab it for 50% off right now.
Sizes: Bra: XS — XL; Thong: XS — XXL | Styles: 4 | Material: 88% Recycled Polyamide, 12% Elastane
This Statement-Making Sheer Floral Bodysuit
Make a statement in this G-string bodysuit; the sheer floral mesh, high-cut sides, and three slender straps in back are both delicate and daring. A swan hook fastens the thong to the back (and allows for easy bathroom trips), while scalloped picot elastic trim and pink-and-white embroidered flowers add a sweet finishing touch to this show-stopping piece.
Sizes: XS — XXL | Colors: 2 | Material: 60% Polyester, 34% Recycled Polyester, 6% Elastane
A Fresh White Bra & Thong Set That Minimalists Will Love
Spring isn't only about florals; the crisp white shade of this bra and thong feels fresh, and it'll appeal to minimalists who aren't huge fans of floral, lace, and other adornments (the set is available in three other equally fresh neutrals, if you prefer a shade other than white). The wireless bra features light foam padding and a wide, sporty underband that coordinates with the wide waistband of the thong bottom. Both are made of a soft and stretchy fabric that will feel like a loungewear dream.
Sizes: Bra: 30A — 38G; Thong: XS — XXL | Colors: 4 | Material: 91% Recycled Polyester, 9% Elastane
This Lace Bra & Thong Set In 10 Vibrant Shades
Vibrant stretch floral lace makes this underwire balconette bra and thong set stand out, whether you're lounging at home or venturing out (how beautiful would the bra look peeping out from a sheer mesh turtleneck?). This teal shade is stunning, but you can choose from a rainbow of shades, from candy pink to emerald green to lilac.
Sizes: Bra: 30A — 38G; Thong: XS — XXL | Colors: 10 | Material: 90% Polyamide, 10% Spandex
This Daring Bodysuit Adorned With Floral Mesh & Cutouts
If you're looking for a way to spice up your lingerie collection this season, it's hard to do better than the Brooke Bodysuit; the floral-embroidered mesh panels say springtime, while the contrasting black polka dot mesh, spicy cutouts, thong back, and garters say playtime. This is one unforgettable bodysuit that will quickly become an undergarment mainstay.
Sizes: XS — XXL | Colors: 1 | Material: 40% Polyamide, 60% Polyester
This Thong With A V-Cutout Back
Like all of Lounge's covetable designs, this mid-rise thong is both comfortable and gorgeous. It's made from a stretchy mesh with floral lace applique that will feel as incredible as it looks; one shopper confirmed that it's "super comfy and feels like I'm wearing nothing." The V-cutout back is a spicy surprise. The brand is currently running a mix and match sale on all thongs and briefs — you can snag either four styles for $36, or eight for $60 — so now now is the time to stock up.
Sizes: XS — 3XL | Colors: 6 | Material: 61% Recycled Polyamide, 21% Polyamide, 18% Elastane