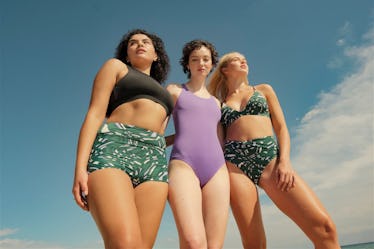 If You Have A Period, You'll Love These Cute & Totally Leakproof Swimsuits For Summer
Don't let your period stop you from hitting the beach.
KT By Knix
We may receive a portion of sales if you purchase a product through a link in this article.
Few things make me as happy as brands that create clothing and underwear designed specifically to make life easier (and stylish) for people on their periods. Kt by Knix is the newest of those uterus-friendly brands on my radar. With summer on the horizon, the timing couldn't be better — its specialty is swimwear, making an active pool- or beachside life while on your period fun, comfy, and most of all, possible. But the swimsuits in Kt by Knix's newest line, Break Free, are so cute you'll want to wear them even when you're not on your period.
You may already be familiar with Knix, which is known for its period underwear; think of Kt as Knix's little sister. Like Knix, Kt by Knix is committed to making period products as accessible as possible. The new Break Free line includes both one- and two-piece swimsuits, all of which can hold up to three tampons or pads worth of blood thanks to their targeted, triple-layer design: A super-soft bottom layer; an ultra-absorbent liner middle layer; and a chlorine- and seawater-resistant top layer that traps in blood, repels water, and has UPF 50+ sun protection.
Note that Kt by Knix was designed with teens in mind, but people with periods of all ages can take advantage of these cute suits. If you are past your teen years, be sure to refer to the brand's size chart, which shows how each of their sizes translates to adult pant sizes. (Kt by Knix's size range extends from XXS to XXL, but according to their size chart, only sizes S and up can convert to adult sizes, ranging from 00-22.)
Shop Period-Friendly Swimsuits
Whether you like a full-coverage boy short or a cheeky bikini cut, you can enjoy period protection in style — and you'll benefit from that absorbent, triple-layer design that ensures you can swim, float, or lounge securely without the need for an extra tampon or pad.
The Full-Coverage Swim Shorts That've Sold Out 3 Times...
These swim shorts are so popular they've sold out three times, and it's not hard to see why. The full-coverage design across the bum and hips, mesh lining, and wide, secure waistband helps you feel protected even on heavier cycle days, but they're cute enough that you'll reach for them even when you're not on your period.
Sizes: XXS — XXL | Colors: 5 | Absorbency: Medium
...& The Best-Selling One-Piece That's Sold Out 5 Times
This fully lined, sporty one-piece features a racerback with a cute keyhole cutout, a medium-coverage bottom, and a scoop neck, a design ideal for swimming laps. Removable cups let you decide how much extra shape and support you want. If that sounds appealing, you'd better click "purchase" quickly — this suit has already sold out five times.
Sizes: XXS — XXL | Colors: 3 | Absorbency: Medium
A Square-Neck Bikini Top With Adjustable Straps
A trendy swim top ready for mixing and matching, the square neckline of this bikini top is nothing short of on-trend. Key features of this fully lined top include a hook closure, adjustable straps, and removable cups. Pair it with any of the bottoms on this list to achieve your favorite swim look.
Sizes: XXS — XXL | Colors: 3
This Pair Of Classic Low-Cut Bikini Bottoms
Upgrade your swim wardrobe with this pair of medium-coverage bikini bottoms in a classic, low-cut silhouette. Perfect for mixing and matching with other Kt by Knix tops (or any other bikini tops in your collection), they come in three fun colors: bright orange-red, sporty blue, and classic black.
Sizes: XXS — XXL | Colors: 3 | Absorbency: Medium
A High-Rise Bikini Bottom With A Twist
If special details are your thing, try out this pair of bikini bottoms; they have a high, twisted waistline to add a hint of playful definition to your swimwear look, while medium coverage across the bum and hips will keep you feeling secure when you take a dip.
Sizes: XXS — XXL | Colors: 5 | Absorbency: Medium
These Full-Coverage Bikini Bottoms
Those who prefer a little more security should check out this pair of bikini bottoms; the full-coverage butt and slightly higher waistband will keep you covered and protected while still looking cute. Pair this playful palm print with any of Kt by Knix's bikini tops in Sweet Violet for a little fun contrast.
Sizes: XXS — XXL | Colors: 3 | Absorbency: Medium
This One-Piece With A Trendy Square Neckline
The full-coverage bottom of this one-piece swimsuit offers plenty of coverage for anyone who likes to feel extra secure down there. The square neck, tank straps, and removable cups inside the built-in shelf bra make this look like a cute bodysuit — after the pool, why not pair it with a high-waisted wrap skirt and heels?
Sizes: XXS — XXL | Colors: 3 | Absorbency: Medium
A Pullover Scoop-Neck Bikini Top That Can Double As A Sports Bra
Hardware-free, this effortless pullover bikini top features a scoop neckline and back, thick tank straps, and a secure underband to help the top stay in place. The fully lined top has removable cups, so you can have as much or as little coverage as you like. It'd make such a chic sports bra, too.
Sizes: XXS — XXL | Colors: 3
The Classic Triangle Bikini Top Every Swimwear Collection Needs
If you're a bikini person, you need a triangle bikini top in your collection — the versatile swimwear classic would look amazing with any of the bikini bottoms featured here. Featuring adjustable criss-cross straps and hook closure, this fully lined top has removable cups so that you can adjust your coverage. The cuteness level, however, is mandatory.
Sizes: XXS — XXL | Colors: 3
This Performance One-Piece For Athletic Swimming
The contrasting trim of this sporty one-piece might be a little bit retro, but the technology of this swimsuit is 100% up-to-date. Designed by the former Canadian Olympic Apparel Designer, this performance suit is made specifically for competitive or athletic swimming, complete with anti-slip racerback straps, a shelf bra, a medium-coverage bottom, and a sleek, lightweight material that reduces drag and encourages speed. This is selling out fast, so if you see your size, snatch it up ASAP.
Sizes: XXS — XXL | Colors: 3 | Absorbency: Medium
This article was originally published on